It's Wedding Time!  With spring wedding season upon us, I thought it would be nice to demonstrate how easy and elegantly my new Rouge Royale Deux Collection can be utilized.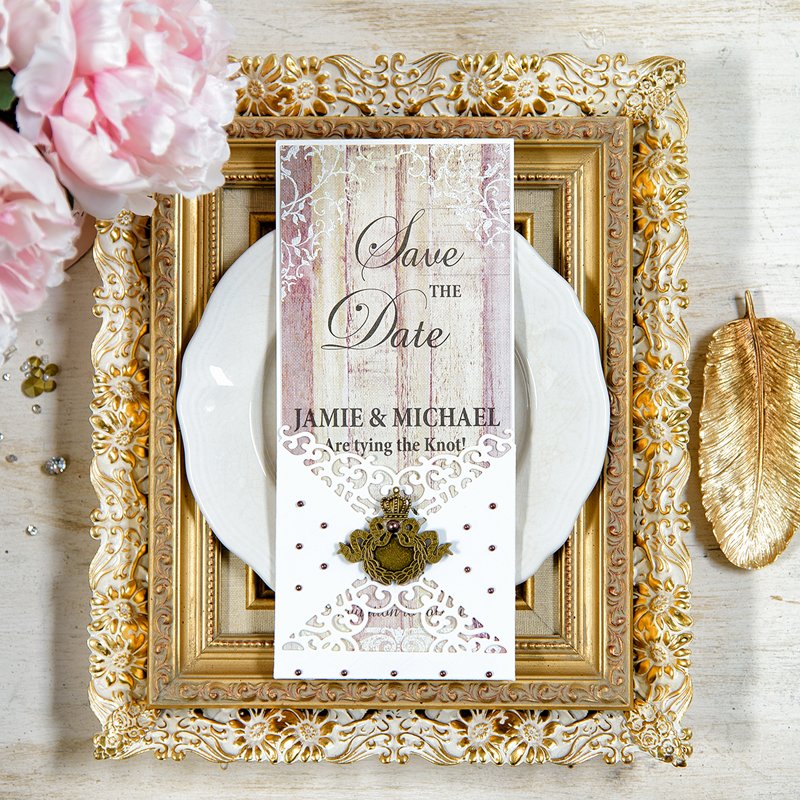 For example, in creating this "Save the Date" cards for any upcoming wedding. My dear friend Jamie is finally tying the knot with Michael, the man of her dreams! To ensure the date is available well in advance she asked me to create the "Save the Date" cards for her April 2018 wedding. I was thrilled to be able to do this for her. A very long time ago … in my life before Spellbinders….. Jamie and I were long time family friends, and Dental Hygienists together working side by side in the same dental office.
I invite you to join me on this journey in a four part series from the first step of announcing a wedding date, to bridal shower invites and all that goes into hosting the perfect bridal shower, throwing an amazingly fun bachelorette party and last but not least, creating the gorgeous wedding invitations.
Save The Date Cards Supplies:
PL-001 Spellbinders® Platinum™ Die Cutting & Embossing Machine
T-001 Spellbinders® Tool 'n One™
S5-296 Diamond Flourish Pocket Etched Dies from the Rouge Royale Deux Collection by Stacey Caron Design
Spellbinders® A Gilded Life GL2-006 Ribbon Wreath Bronze Pendant
Others:
Prima: Butterfly Collection Cardstock 951160
Marcos Paper: White Cotton Cardstock
Creations Unlimited: Embossing Powder (White Frost)
Inkssentials: Emboss it (Clear)
Glue Arts: Glue Glider Pro
Want2Scrap: Nestabling
Bone Folder; Heat Gun
Stacey Caron lives her life to Curate, Empower and Create.
President and co-founder of Spellbinders Creative Arts and Stacey Caron Design. In 2003, Stacey forever changed the world of die cutting and embossing. Responsible for co- developing the first universal cutting and embossing system and the first dies in the craft market to cut, emboss and stencil.Stacey's achievement has resulted in the most widely used format for manual die cutting and embossing in today's craft market.
After achieving numerous awards in product innovation and business including three consecutive years on the INC 500/5000 list an exclusive ranking of Entrepreneurs nationwide, 2014 & 2013 Bronze & Silver Stevie awards for Female Entrepreneur of the Year and Innovator of the Year, Ernst & Young Entrepreneur of the Year Finalist in the Desert Mountain Region, 2012 Enterprising Woman of the Year and several innovation awards from the Craft & Hobby Association, Stacey partnered with an investment company to grow the Spellbinders brand to new levels.Today, Stacey is active in designing multiple product collections for both the Spellbinders and Stacey Caron Design brands.
SHOP NOW
Latest posts by Stacey Caron (see all)