I am always looking for ways to take my die cuts to a new level. For me, that usually means layering, texturizing or dimensionalizing. Those are words, right?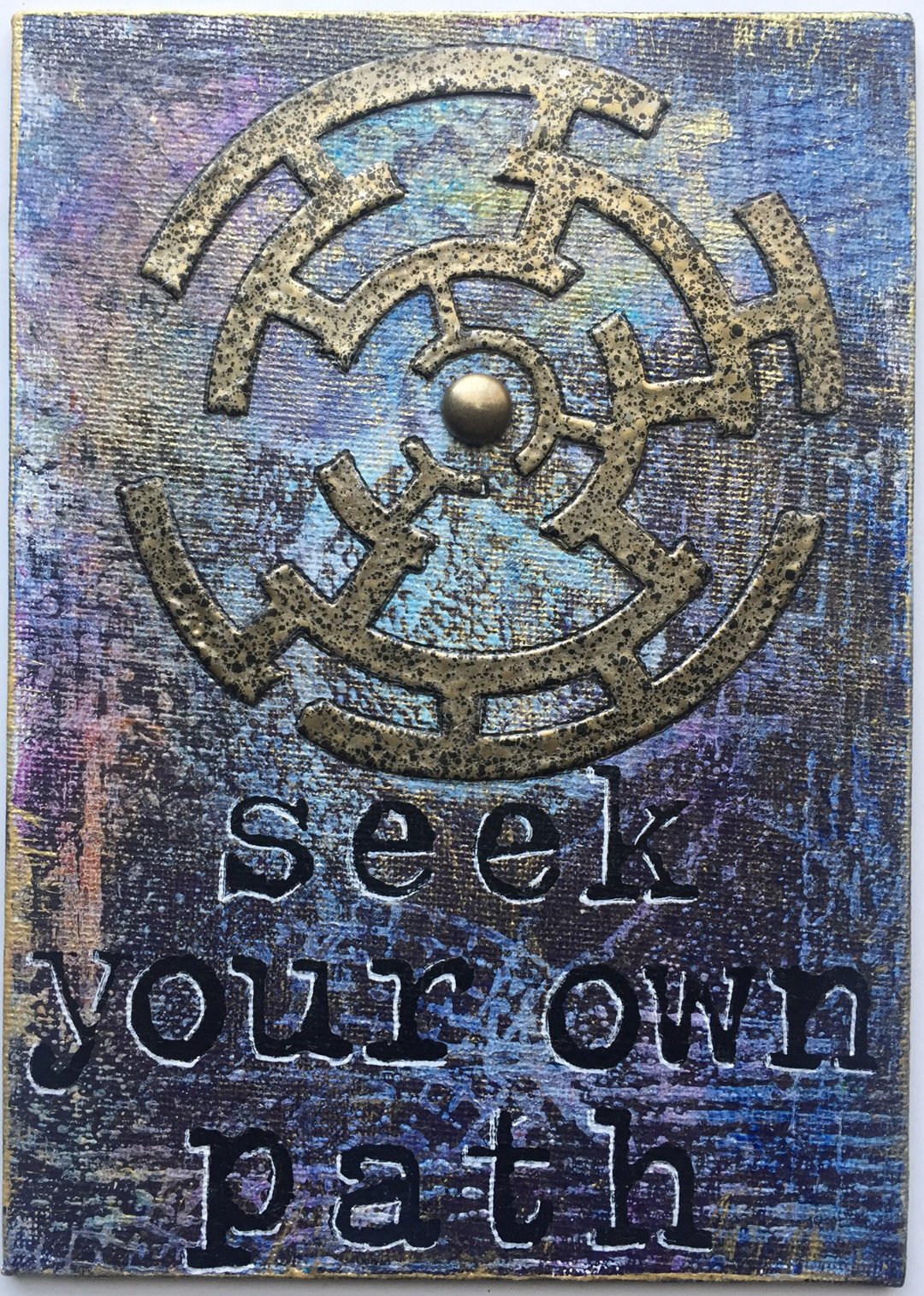 I used a heat embossing technique on the pieces I am showcasing today to create more texture, interest and a bit of sheen on the surface of my die cuts. The process is really quite simple but adds a big impact to your project.
For my first piece, I chose my new Broken Maze die and ran it through the Spellbinders Platinum Die Cutting and Embossing Machine with a piece of card stock. Once cut, I pressed an embossing  pad over the entire surface of the die cut. An embossing pad looks like a typical ink pad but disperses adhesive rather than ink to the surface.
Place a piece of paper underneath to catch the excess embossing powder and pour the embossing powder over the sticky die cut. I used Charred Gold from Emerald Creek – my go-to brand of embossing powder. A tip is to be sure to shake the container first as many powders are made up of several different sized-granules that separate when sitting on the shelf. Tap off the excess powder from the die cut onto the paper underneath and put it back into the container.
Last step is to heat the surface with a heat gun, causing the embossing powder to melt and the magic to happen. Be sure not to hold the heat gun too close to the surface and move your heat gun around a bit so that the powder melts but doesn't burn. And don't touch the surface of your die cut for at least a few seconds to allow the melted powder a but of time to dry.
I used the same technique on a second piece, also highlighting die cut layering for a bigger effect. Here I chose several dies from my newly released sets Steering Wheel, Shield, and Loop De Loop. This time I used hand painted paper for the die cuts and heat embossed two of the 4 pieces I layered.
The top-most circle was embossed with Charred Gold while the largest die cut second from the bottom, was embossed with Weathered Wood, also from Emerald Creek.
Would love to know what your favorite flavors of embossing powders are and see other ways that you add texture and dimension to die cuts. And if you use any of my Spellbinders products, let me know so I can showcase you on my social media sites.
Spellbinders® Supplies:
Spellbinders® Platinum™ Die Cutting and Embossing Machine
S4-741 Steering Wheel Die Cut Etched Dies Set
S4-743 Broken Maze Etched Dies Set
S4-744 Loop De Loop Etched Dies Set
S4-745 Shield Etched Dies Set
Other Supplies:
Card Stock (Hand Painted & Inked), Paper, Hand Painted Book Board, Emerald Creek Embossing Powder – Charred Gold & Weathered Wood, Scissors, Adhesive, Embossing Pad, Heat Gun, Gel Pen, Alphabet Rubons, Metal Embellishments
Seth Apter is a mixed media artist, instructor, author and designer from New York City. His artwork has been displayed in multiple exhibitions and can be found in numerous books and national magazines. He is the voice behind The Pulse, a series of international, collaborative projects that are the basis of his two books, The Pulse of Mixed Media and The Mixed-Media Artist. He has also produced two workshop DVDs: Easy Mixed Media Surface Techniques and Easy Mixed Media Techniques for the Art Journal.
SHOP NOW
Latest posts by Seth Apter (see all)