Hi there, I'm Becca Feeken with Amazing Paper Grace and I'm here today to talk about one of the craft items we collect. Well, we all have it, drawers full of it — in every color, in every style, in every width. What is 'it'? It's Washi Tape! I'll admit it, I'm a bit of a washi addict. I have enough washi to last a life time. As a collector, though, I'm always challenged with ways to use it on my card. Well no more! Washi tape is a perfect embellishment on framed cards. With the use of the S6-112 Graceful 6 x 6 Frame Maker – you can be rocking a washi embellished frame in no time flat!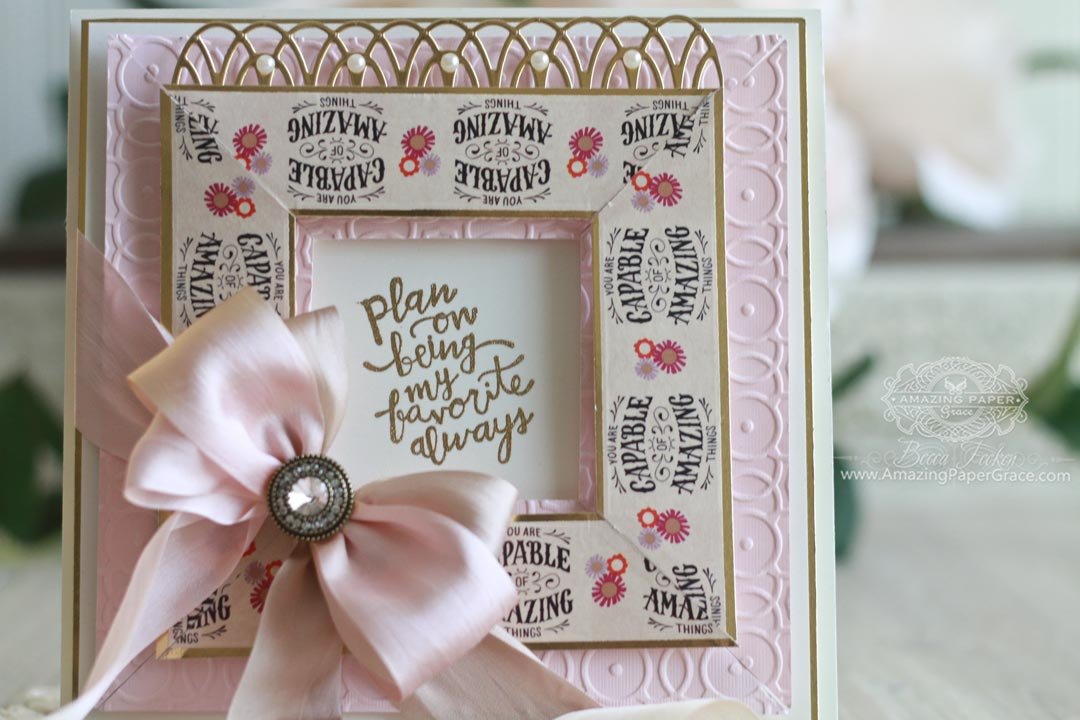 It's so easy, so hold on and I'll show you how!
Instructions:
1. Start out with a 6-1/2″ cream card base and layer with a 6-1/4″ gold matting layer and 6″ cream layer.
2. Cut a 6″ square piece of card stock with the S6-112 Graceful 6 x 6 Frame Maker giving you 4 triangles. Together, cut the tip of the group of triangles off so that you are left with 1-3/4″ depth.
3.  Emboss each of the four pieces with SES-001 Overlapping Circles Embossing Folder.
4. Tape all four pieces together on the back to create a mitered frame layer. Stamp sentiment on 4 x 4″ panel and attach directly to card before attaching frame layer with foam tape.
5. Cut four 1-1/8″ strips of gold paper. Adhere washi tape centered down the length of each strip.
6. Paste all four strips onto the S6-112 Graceful 6 x 6 Frame Maker taking care to place words in the position and orientation desired. Run through using PE-100 Platinum™ 6 Die Cutting And Embossing Machine – 6″ Platform to cut all four borders at the same time.
7. Add a header to the frame by trimming a length of the Arched Border from S4-704 Graceful Sweet Words. Finish with pearls, ribbon and a bow.
So that's the formula! Today I'm using the words You Can Do Amazing Things but can't you just imagine of the dreamy floral patterns or some of the fun watercolored motifs?
Becca Feeken – www.amazingpapergrace.com
Spellbinders Supplies:
Other Products Used:
Neenah Classic Crest – Natural White – Cover – 80lb Smooth, Gold Foil Poster Board, 3M Foam Tape, Score Board, Ruler, Paper Trimmer, Ribbon, Pearls, Versamark Ink Pad, Gold Embossing Powder
Craft artist Becca Feeken blends a love of sewing, embroidery, needlecrafts and jewelry-making into a passion for gift making and paper crafts. Her distinct style is a romantic elegance with classical and victorian influences, often punctuated with a delicate ribbon bow or handcrafted embellishments.
Her passion for die-cutting began in early 2000 and today motivates her to encourage others in gift making, nurturing faith, creating legacy and giving.
As a licensed die and stamp designer for Spellbinders, her sweetly recognizable designs continue to impact the industry.
SHOP NOW
Latest posts by Becca Feeken (see all)