Hello everyone, it's Elena Olinevich her to show you how bows can be fun when you are creating the cards.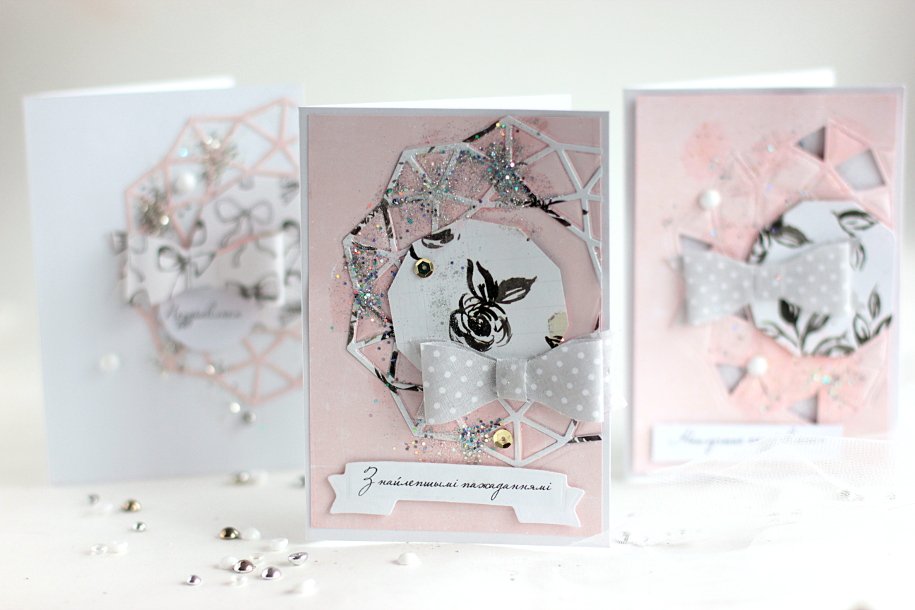 To create the bows I used SR-069 Steel Rule Die – Contour Bow-Tique.
It was fun to cut the bows from different papers.
For some of my cards I used Ribbon Banners Dies to cut out the sentiment.
However I decided to add some texture on my background and I played a lot with S5-280 Kaleidoscope Die.
The easiest way is to die cut the shape and adhere it to the background.
But I also embossed the die and received a dimensional texture on my card. For one of my card I added the leftovers mixing different colors and papers.
For my next cards, I cut out the embossed shapes and then mounted them on foam tape, and topped them with pearls and rhinestones.
I also removed some of the shapes, mounted the card panel and I liked this like a window looking wholes.
For this card I used fabric to create my bow, you can notice it has been cut out perfectly, no threads, as if it is of a paper one.
I love the result, that is why I made even 6 cards at once, mixing the papers and the sketch for them.
You can check my video tutorial for some creative process and a few tips.
Products used:
SR-069 CONTOUR BOW-TIQUE STEEL RULE DIES
S5-280 SHAPEABILITIES GEO FLOWER KALEIDOSCOPE  ETCHED DIES
S4-324 SHAPEABILITIES RIBBON BANNERS ETCHED DIES
I am Elena Olinevich from Belarus (Eastern Europe). I have always been a creative person since I was a child. Then it was a long period when I have been busy with sales and marketing industry, and only after my first child was born I realized that I needed something more.
I have become a full time artist and scrapbooker in 2010 and I am very happy that I decided to change my life. My crafty job brings me more than only the joy and self-esteem. It provides me with the supportive followers, talented students and teaching the classes allow me to travel around the world.
I started as a cardmaker, but at the moment I can say that I am all kind of scrapbooker as I love fussy cutting, papercraft, mixed media with a sense to details and layering, my distinctive feature.
Latest posts by Elena Olinevich (see all)