With summer just around the corner and the Spellbinders blog theme being "Tropical", I thought it would be fun to tie in my prior collection, "Wild & Free" in with my current collection, "Market Fresh" and make a cute flip-flop banner. This home décor piece can be used as party décor or as an accent piece in a bedroom. Flip flops are inexpensive and can be found at almost every variety store. Depending on what colors you select or patterns of paper you choose, you can customize it to fit your lifestyle or occasion. Obviously, what sentiment you want to attach to the shoes is up to you.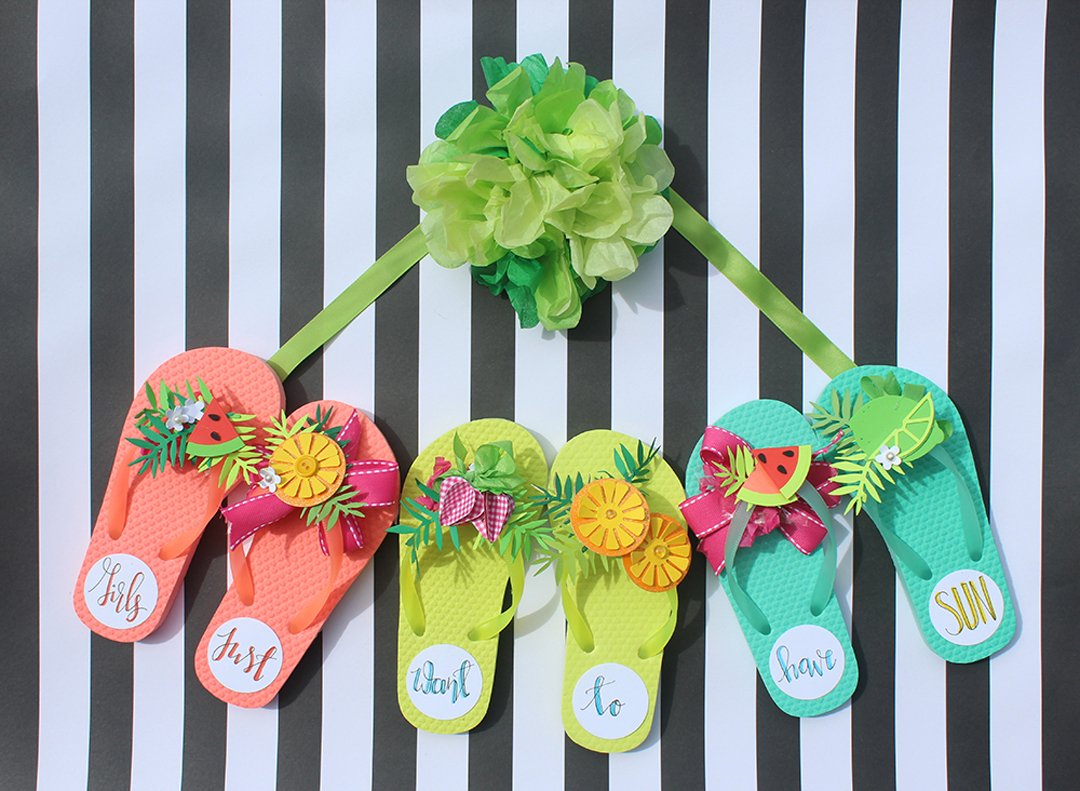 Here are the items you need to get started:
Platinum, Platinum 6 or Prizm Machine
S4-718 Make Mine Lemon Lime Etched Dies from Market Fresh Collection by Debi Adams
S4-719 Aren't You Sweet Etched Dies from Market Fresh Collection by Debi Adams
S4-722 Orange You A Tomato? Etched Dies from Market Fresh Collection by Debi Adams
S4-721 I'll Have a Slice Etched Dies from Market Fresh Collection by Debi Adams
S4-676 Tropics Etched Dies from Wild n Free Collection by Debi Adams
Other:
Solid Cardstock of Your Choice
Patterned Cardstock of Your Choice
4 pairs of children's flip-flops
Hot Glue/E-6000 glue
Pearls
Ribbon
Buttons
Black Pen
Markers
Die-cut various pieces of cardstock to create fruit and leaves using your die cutting and embossing machine. Then adhere the pieces together.
Adhere die-cut pieces to flip flops using hot glue or E-6000. Attach bows, pearls and any decorative embellishments.
Adhere flip-flops together at sides using hot glue.
Handwrite or print out sentiment onto cardstock. Use circle from Orange to die-cut sentiments.
Adhere sentiment to flip-flops.
Create hanger by attaching ribbon to backside of flip-flops using hot glue. Hang as desired.
*Tip: If you are considering using this outdoors, I recommend cutting all the fruit and leaves out from poly foam. This will make them weather resistant.
And there you have it. Lots of color and definitely a statement piece. Hope you will try making one!
Happy Thursday!
Debi
As far as she can remember, Debi has been crafting, creating and doing art in one form or another. Born and raised in Southern California and the mother of four grown daughters, Debi is an in-house designer at Spellbinders. She considers herself an "eclectic artist", dabbling in mixed-media, party décor, paper crafting, painting, calligraphy, sewing, floral arranging, and everything in between. She has been featured in Somerset Studios, Where Women Cook, and Where Women Create magazines. Though her passion is art, she enjoys giving away what she makes. Her free time is spent "junkin", traveling and seeing her girls.
SHOP NOW
Latest posts by Debi Adams (see all)