It's a little known fact that I am not fond of cooking, but what I am fond of is the sweet details that make a meal or celebration memorable! Becca Feeken with Amazing Paper Grace here to show you a special touch that will send your guests off with fond memories of a meal or coffee chat time and, what's more, you can rock their world in less than 10 minutes.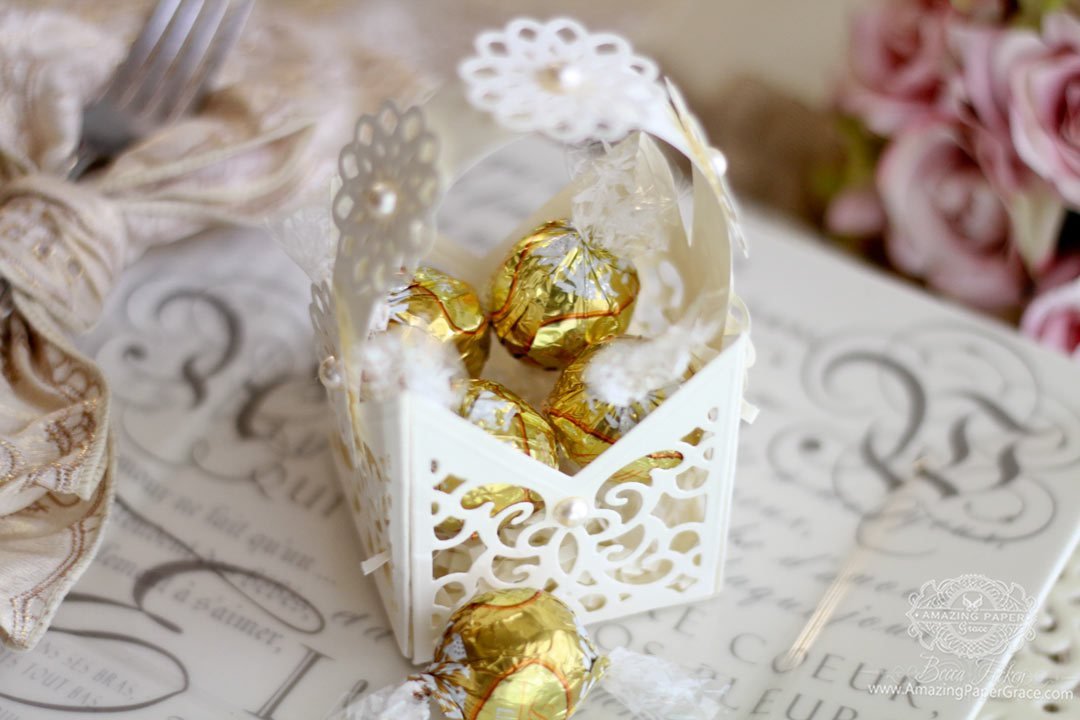 I always say that Love is in the Details! When I have friends over for dinner or even just to have coffee, I look to my dies to create something beautiful to dress up the table, to give them as a keepsake and simply to let them know I cared enough to create something special for the occasion. I used the S4-730 Filigree Pocket Etched Dies from the Vintage Elegance Collection to create a Petite Basket in less than 10 minutes. The Filigree Pocket Die was designed to hold gift cards but assembled as a basket today, it is just large enough to hold a couple of gourmet chocolates. It seemed like a great way to have some treats without having a full dessert or it makes for a sweet send-off as you put these in your guests hands as they leave.
It's so easy to whip right up and I'll show you how!
Instructions:
1. Using S4-730 Spellbinders Filigree Pocket, lay out enough paper to cut 4 pockets, 5 medallions, two – 2.5″ squares and one strip 3/4″x 8.5″
2. Apply ScorTape to three sides of each pocket, flex all score lines.
3. Adhere all four pockets by side flaps.
4. Trim seams.
5.  Glue last edge of combined pockets to first edge to form a 3D square.
6. Glue 2.5 "square to bottom, then trim a sliver from the second 2.5" square and glue inside basket.
7. Place a pearl on each medallion and adhere to strip, spaced evenly apart.
8. Adhere each side of handle to inside of basket about 3/4″ from top.
So you say that you don't entertain for dinner? No worries, this die is sitting on the edge of my desk because I love having gifts at the ready. Here are the other baskets I imagined. Is there one that fits you?
Your daughter is getting married…these are perfect for place setting favors!
You're planning a baby shower…these are adorable dressed up in pink or blue!
Treats need to go to school for all the kids….everyone gets their own basket!
To leave a little gift on the receptionists desk….make up a few, wrap with cellophane and tie off with bow!
This little basket will be doing a lot of heavy lifting come Christmas this year – it's just begging for a candy cane or two 🙂
Sending hugs!
Becca Feeken – www.amazingpapergrace.com
Spellbinders Supplies:
Other Products Used:
Neenah Class Crest 80lb Smooth Natural White Card Stock, ScorTape, Score Board, Ruler, Paper Trimmer, Ribbon, Pearls, Crinkled Shred
Craft artist Becca Feeken blends a love of sewing, embroidery, needlecrafts and jewelry-making into a passion for gift making and paper crafts. Her distinct style is a romantic elegance with classical and victorian influences, often punctuated with a delicate ribbon bow or handcrafted embellishments.
Her passion for die-cutting began in early 2000 and today motivates her to encourage others in gift making, nurturing faith, creating legacy and giving.
As a licensed die and stamp designer for Spellbinders, her sweetly recognizable designs continue to impact the industry.
SHOP NOW
Latest posts by Becca Feeken (see all)