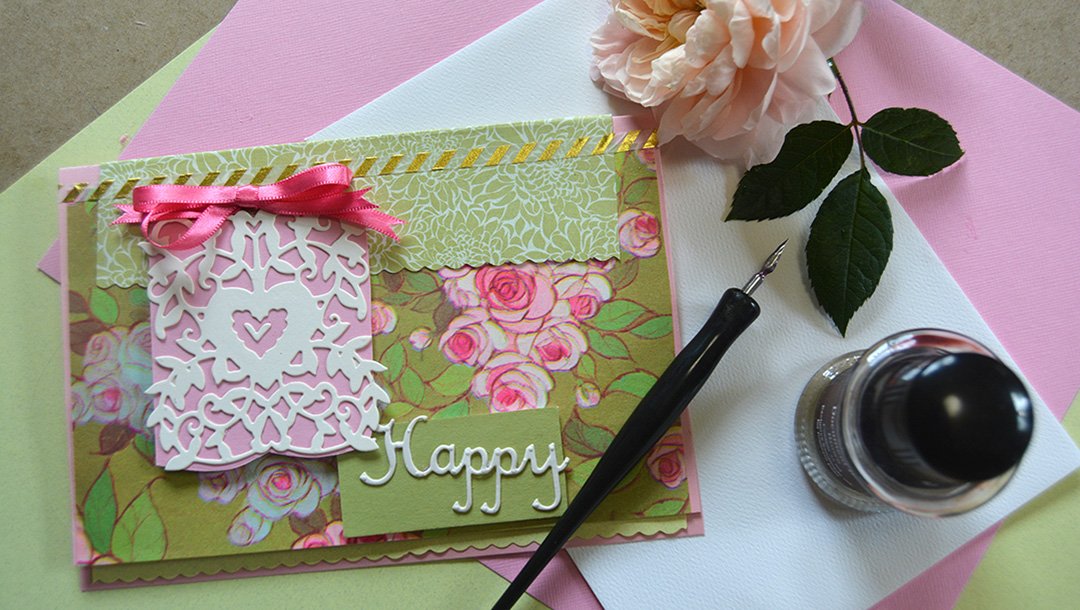 It's always nice to have all occasion cards, ready to go for whatever comes up next. This one makes good use of little scraps that are too sweet to toss but too small for a big project.
First fold a solid color paper into the card size of your choice. Mine is 5X7″. Then if you're like me, you'll spend some happy time sorting through your lovely scrap.
Choose a large scrap of paper to cover the bottom portion of your card. I used a vintage piece of wrapping paper I've been hoarding. Now cut a smaller piece to fit across the top, and fold 1/2″ from top, then slip over the top of your card and glue down.
We're going to use the Heart leaves die and the word "happy" from the sentiments die from the Joyous Celebrations collection. Cut one of each. For complex dies like this that have thin, small areas to be cleaned, I absolutely love the Tool-n-One die pick. It makes quick work of removing even the tiniest bits of paper.
Cut a coordinating piece of paper roughly the same size as the heart leaves piece and one slightly larger than the word "happy." Glue down the die cuts and add them to your card.
Embellish with ribbon, washi tape, glitter, tiny flowers… whatever you have on hand.
And voila! Finished. Time to write a note and celebrate with chocolate!
Sharyn Sowell's talents include calligraphy, watercolor, cut paper, paper crafts, photography and letterpress printing as well as computer skills.
Sharyn is an author and teacher. She teaches worldwide which gives her the opportunity to meet and share her expertise with a wide range of people, while getting inspiration for her own work from around the globe.
A proven professional with a long track record, Sharyn designs for diverse companies like Midwest CBK, Sunrise Greetings and York Wallcoverings. She's designed Mrs. Grossman's laser cut stickers, Paper House Productions craft supplies, textiles for Henry Glass, dies for Spellbinders and rubber stamps for Clearsnap. Sharyn's original art can be seen in the British National Portrait Gallery, Children's Hospital Los Angeles and the Orlando Waldorf Astoria. Her covers for Amazon's Kindle have sold over 2.25 million units and she was twice awarded the Louie Award, the Oscar of the greeting card industry.
SHOP NOW
Latest posts by Sharyn Sowell (see all)