Nothing says happy birthday better than a great cake! This project is extra special because it's simple enough to make with children. For a perfect (and perfectly easy!) birthday cake, we grabbed some of the etched dies from my Joyous Celebration Collection: Party Kids Etched Dies, Edging Leaf Etched Dies and a sweet paper house favor made with Build a House Etched Dies (an optional but fun topper).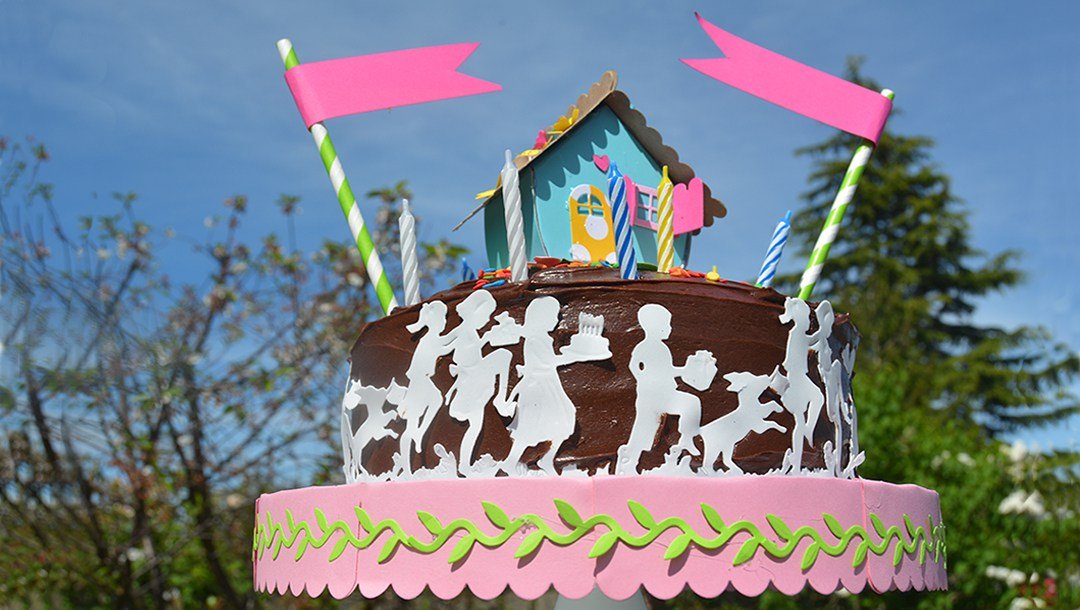 You'll also need a cake, frosting, candles, a cake stand, Wilton Sugar Sheets, and your choice of paper, adhesive and glue dots. Straws are optional. Wilton Sugar Sheets are very thin paper-like sheets of sugar. You can find them at "Big Box" craft stores, on-line retailers and anywhere that sells cake decorating supplies.
Pull out the Edging Leaf Etched Dies and your favorite footed cake plate. Cut enough of both edging and leafy pieces to go around your plate, glue together and attach to the rim of your plate using plenty of glue dots. Isn't that pretty already?
Bake the cake of your choice and cover with your favorite frosting. Thick frosting works best; don't use whipped cream or other wet frostings because they dissolve these decorations. You can even cheat and simply buy a plain frosted cake; it works great!
Die-cut enough of the Party Kids Etched Dies from sugar sheets with the Platinum™ 6 machine to circle your cake. It's best to cut the sugar sheets with the shiny side up and roll through the machine twice to be sure it's cut clear through. Gently remove the die cut, using a toothpick if needed to remove the tiny bits.
Press the cut out decorations into the frosting, then toss on some sprinkles or confetti. If you like you can add a mini-bunting or little flags glued to straws and tuck the Build a House Etched Dies cottage in the middle of the cake. When adding a house I usually make an extra bottom piece to place directly on the frosting, then set the house atop that. This way there's no messy frosting on the bottom of your wee birthday house.
Light the candles, sing a happy birthday song and enjoy your party!
True story from my home to yours: This project has been so popular for us that the children have been requesting "pretend birthday party time" on rainy days. I think we've made this three times in the last month! What fun.
Supplies Used:
Party Kids Etched Dies from Joyous Celebrations Collection by Sharyn Sowell
Edging Leaf Etched Dies from Joyous Celebrations Collection by Sharyn Sowell
Build a House Etched Dies from Joyous Celebrations Collection by Sharyn Sowell
Platinum™ 6 Die Cutting and Embossing Machine
Others:
Cake
Frosting
Candles
Cake Stand
Wilton Sugar Sheets
Choice of: paper, adhesive and glue dots
Straws (optional)
Sharyn Sowell's talents include calligraphy, watercolor, cut paper, paper crafts, photography and letterpress printing as well as computer skills.
Sharyn is an author and teacher. She teaches worldwide which gives her the opportunity to meet and share her expertise with a wide range of people, while getting inspiration for her own work from around the globe.
A proven professional with a long track record, Sharyn designs for diverse companies like Midwest CBK, Sunrise Greetings and York Wallcoverings. She's designed Mrs. Grossman's laser cut stickers, Paper House Productions craft supplies, textiles for Henry Glass, dies for Spellbinders and rubber stamps for Clearsnap. Sharyn's original art can be seen in the British National Portrait Gallery, Children's Hospital Los Angeles and the Orlando Waldorf Astoria. Her covers for Amazon's Kindle have sold over 2.25 million units and she was twice awarded the Louie Award, the Oscar of the greeting card industry.
SHOP NOW
Latest posts by Sharyn Sowell (see all)