Maker Moments: It's A Bunny Thing Place Setting Ensemble
Now that spring is here and Easter is just around the corner, Michelle and I thought it would be fun to make a project or two using Spellbinders It's A Bunny Thing Contour steel rule die (coming soon – we couldn't resist!). A variety of materials can be cut with a steel rule die, we used 140 lb. weight mixed media paper to make a napkin ring holder/name plate. Hover over the image below to see what products you'll need for this ensemble.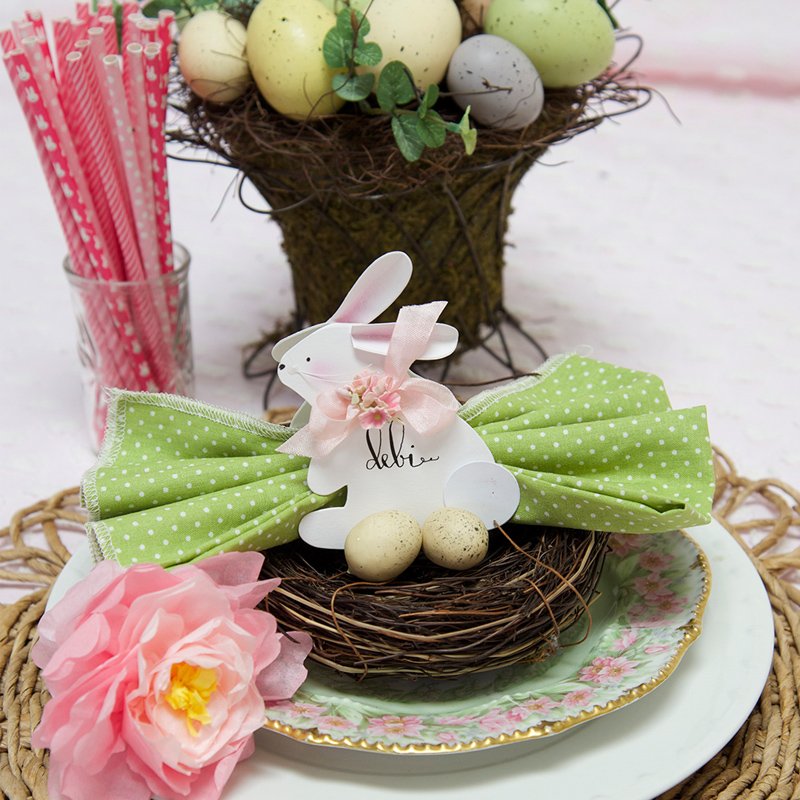 When cutting the bunny out, fold the paper in half then place the fold line slightly inside the cut line at the top of the bunny'€s head. This will allow the bunny to stand on his own since it will be creating two bunnies joined at the head. To prevent the bunny from 'sliding,' attach a small strip of paper underneath and inside the bunny's body.
We painted a little face with a micron marker and gave him some blush and coloring to his ear using pink chalk. The whiskers were made from carpet thread and the embellishment around his neck is seam binding ribbon and tiny flowers. And now, the bunny is complete and ready to decorate your table.
For an additional tabletop decoration, attach the single die-cut bunny to a straw. Insert the straw into an upside-down cup and secure in place. Add decorations to top (bottom) of cup. Now you have created some height to your table. As we always say, easy-peasy 🙂
Are you creating anything for Easter? We would love to see your display! No matter where you are or what you are doing, we want to wish you all a lovely Easter. See you back here next Monday.
Debi & Michelle