Pom Pom Posies Rosettes with Tammy Tutterow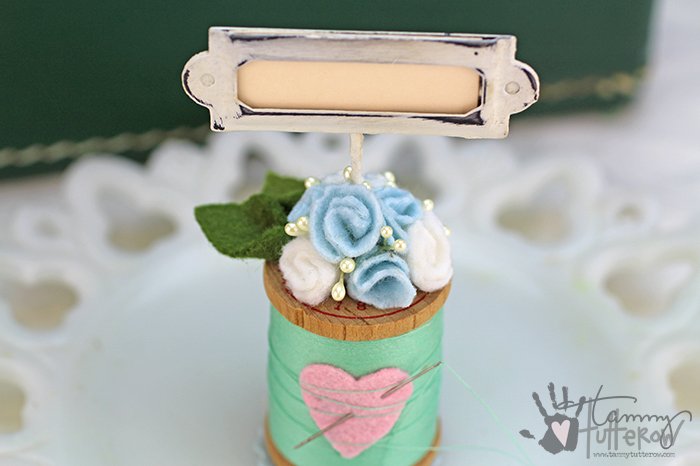 I love when I discover new ways to use dies I already have. The more ways I can use a die the more bang for the buck I get. I was recently working on my samples for our upcoming trade using my Pom Pom Posies Die Set. I was thinking about ways to use it in a more dimensional way when I happened to fold it in half. I started rolling it into a cone and there it was, a rosette and a brand new way to use this fun die.
In my finished sample above, I used the smallest Pom Pom Posies die to cut wool felt. You can use any of the three sizes of the flower shape. I will show you how to create the rosette using the largest flower die using wool felt.
Fold the round flower in half.
Fold the right corner over onto the half circle to create the beginning of a cone shape.
Continue rolling the cone to the left.
Secure the end of the cone to the side with a few quick small stitches. (I used contrasting thread to show the stitch.) You could use a fabric glue like Therm O Web's Fabric Fuse to close the cone and secure it. You will need to hold the cone until the glue sets up and bonds.
Fluff and shape the "petals" as needed. Pair with a green felt leaf and adhere to your project!
So quick and simple and such an easy way to add dimension to your project. Best of all, it gives you two options for embellishments from one die design.
Tammy
Supplies:
wool felt
needle and thread or fabric glue