Create A Joyous Celebration with Sharyn Sowell
I'm delighted to join the Spellbinders design team with a happy collection of stamps and dies: Joyous Celebrations! Because life is so full of reasons to celebrate.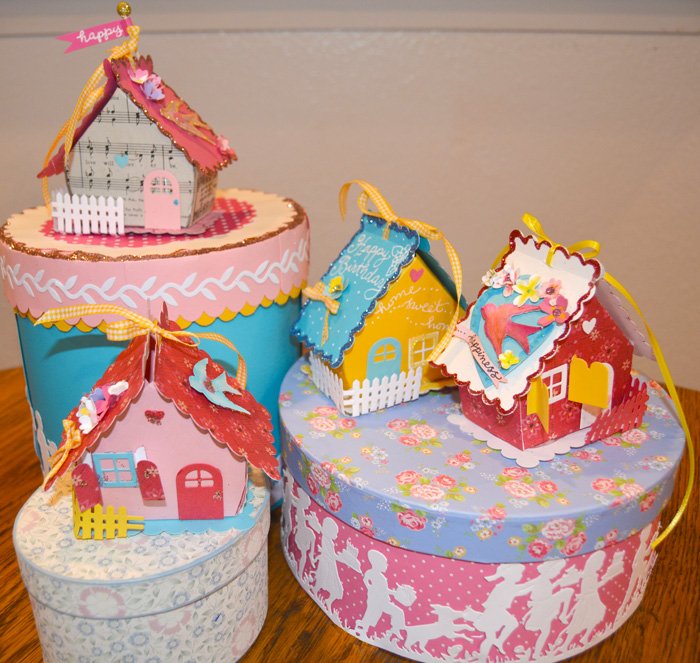 Today we'll build a little paper house that can be a gift or favor box, place card, cake topper or even (yes, really!) the cutest to a bunting you ever saw.
You'll want the Build a House die set. Cut three of the roof / base piece, two of the front / back piece, two of the side piece, and as many as you like of the remaining pieces. I always cut extras and love to use both prints and solids in a variety of mix and match colors.
Use a nice hefty card stock. If you've got a darling lightweight paper you're dying to use, simply glue it to a piece of coordinating card stock to reinforce before cutting.
The pieces go together very quickly. I use a hot glue gun because it sticks so firmly and works fast but you can use whatever adhesive you like best.
Assemble the four walls first, then glue the house to the base.
Now attach one side of the roof to the little flap that is at the top of the wall. If you only attach it to one flap, it acts as a hinge so you can open the top like a box. Now attach the opposite side.
Your house is complete. But poor thing! It's so plain.
Let the fun begin! Time to embellish. Gather the glitter, rhinestones, washi tape, ribbon, paint, tiny buttons… whatever you like best! And decorate to your heart's content.
You can use other dies for embellishments, too. I used pieces from the Swallow and Heart die to decorate these little houses and tucked the completed Swallow and Heart pieces inside as a gift, with ribbon so they hang as a necklace.
Notice I used the pieces but didn't assemble them as a group. You can use any tiny dies you like. I love flowers for this kind of decorating and because I am a defiant crafter I often use the dies in ways that are nothing like the pictures on the package. Look how I use the flowers and swallow as extras on the roof.
To use as a gift or favor box, glue ribbon at the top to close and tuck some tissue and your little gift inside.
If you want to make a bunting, the same ribbon ties will attach your houses to a ribbon or you can simply glue the roof shut. Sometimes I make light strands by sticking twinkle lights through the roof. If you're doing this you'll want to plan ahead and cut the window and doors out from the walls before you assemble the house and glue vellum to the inside so it glows sweetly.
Whether you're using your little houses for a birthday party, tea in the garden, valentines, or a housewarming, I guarantee you'll love the process. I should warn you: once you make one, you may find yourself like me with a million ideas and a whole new paper crafting addiction!