Maker Moments: DIY Valentine's Day Party
Well, I bet you know exactly what I'm going to say in regards to today's topic. I LOVE a party! Always. And I'm excited to bring you some pretty little banner, Valentine treat boxes and some cupcake toppers. Maybe I should have  created just one project but I so love this occasion that I couldn't stop myself. So here you go. Staying true to Maker Moments, these projects are simple and quick to make. They all were created using our Platinum Machine found here.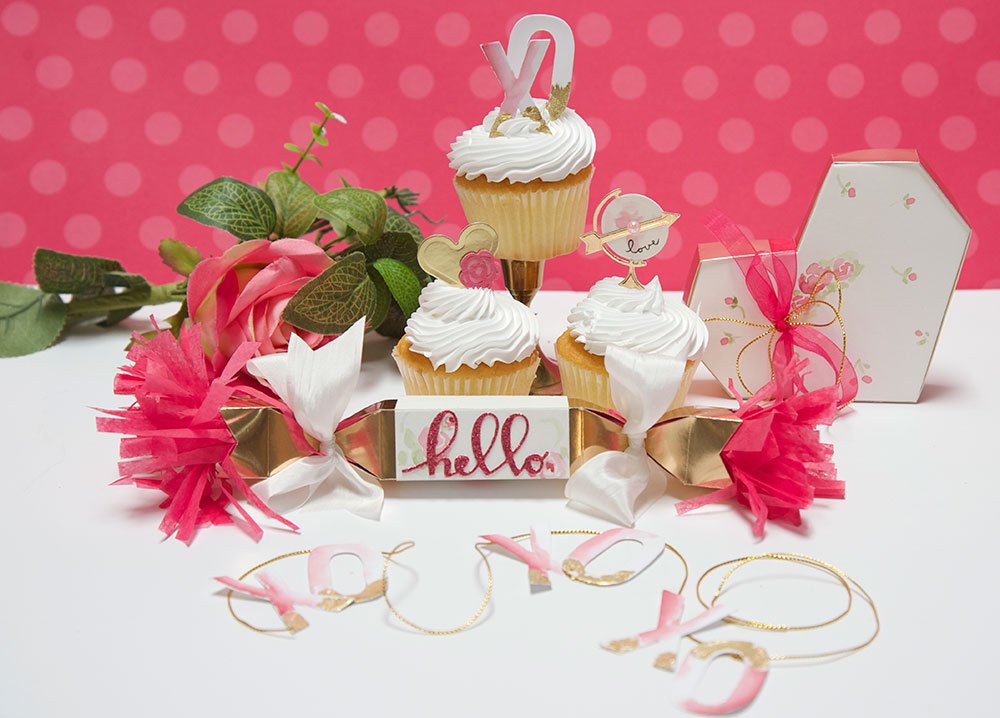 So let's talk through those cupcakes. Adorbs, right? I can't even claim to have made them but with the cute die cut pieces on top, they literally became the icing on the cake. I used our contour dies, Type-Oh and Treat Yourself Box, Die-D-lites-Going Places, Nestabilities-Classic Hearts and the flower from Tribe Vibe. In addition to the dies, 140 lb. mixed-media paper, card stock, glittered card stock, a watercolor brush, watercolors, adhesive, gold leafing, and gold poster board were used.
No party is complete without a banner. After all, there has got to be a message there! With our Type-Oh alphabet, you can customize your sentiment. I chose "XO" but you can let your imagination spin it any way you like. Gold metallic twine held the die-cut Type-Oh letters. The letters were cut from mixed media paper that I watercolored. Adding just a touch of gold leafing gave them that finishing look. (Tip:You can always use a gold metallic pen instead of gold leafing.) Adhere the letters to the twine with adhesive. Wah-laa!
And what about that darling Geo-Heart box? I think it's just about the trendiest box for Valentine's. This is the first time I made the box and it was not difficult. You will need to cut off one tab on each strip.  See pic below. Notice the right gold band has the tab cut off.
Adhere one tab to the other, no-tab end of the gold band so that the two longest scored pieces of band are connected.
Adhere red tape to the box as shown below.
Peel back wrapper on tape and apply band to edge, matching long and short areas. Adhere last tab together. Make another Geo Heart to form the bottom.
I cut this box from mixed-media paper and watercolored the top of it. If that is not your skill set, try cutting the box from printed card stock. Either way it's going to look fab and you created it! I tied ribbon and gold twine around the side of the heart box.
And finally, the last box is the Treat Yourself Box.
I die-cut the box from gold poster board. Assembly involves adhering one side of the box to the other end. Insert tissue and any treats before tying ends closed. (See bows). Die-cut just the center section of the box from mixed-media paper. Embellish with watercolors. Assemble and adhere to box. Die-cut the sentiment "Hello" from the Geo-Heart set using glittered paper and adhere in place.
Well, what do you think? Easy? Time to get making. Valentine's Day is just around the corner!
XO,
Debi