Maker Moments: A World of Creativity
Hi everyone! Welcome back to Maker Moments. Today I thought it would be fun to show you how you can create this cool globe. Those Spellbinders' dies simply take the work out of everything and let you look like the pro! So if you think you can't draw or aren't artistic, we got you covered! Hover over the image below to see what I used in creating this home decor project: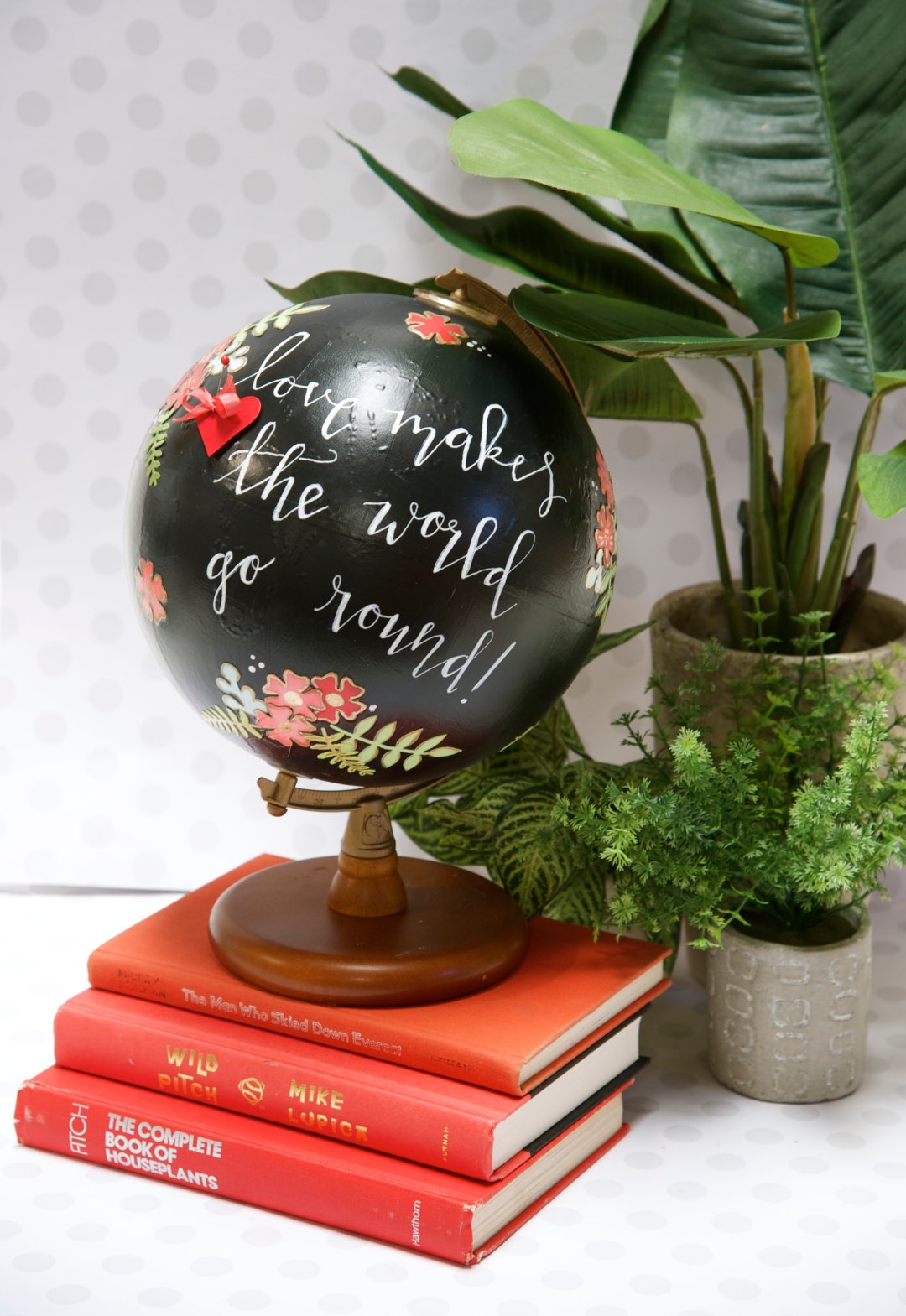 I purchased my globe at a second-hand store but you can find one new almost anywhere. Try your local discount department stores. Globes are generally found in the home decor section.
Sometimes it's hard to do but go ahead and paint your globe. I used black acrylic paint.
First, hand write your own sentiment or trace the downloadable (click:) Sentiment for Globe Home Decor by Debi Adams onto your globe using white tracing paper. Rewrite the sentiment using a white paint marker. Go back and thicken up the lines of the downward-stroke letters.
Next, die-cut flowers, leaves, fern, berries and heart from cardstock.
Embellish the die-cut pieces using the gold metallic paint marker. Adhere the die-cut designs except the heart onto the globe using gel medium. Brush gel medium over all adhered die-cut pieces.
When gel medium has dried, spray clear sealer onto entire globe. Adhere die-cut heart to globe using a map pin. Tie bow onto pin.
And there you have it! You now have your own personal creation in the style and colors you like. Ah, and the world, it's your oyster!
XO,
Debi
Here are the Spellbinders supplies needed:
Choice of: Spellbinders® Prizm™ Die Cutting and Embossing Machine, Spellbinders® Platinum™ Die Cutting and Embossing Machine, or Spellbinders® Platinum 6™ Die Cutting and Embossing Machine
SDS-012 Floral Divine Stamp and Die Set
S4-678 Geraniums and Leaves Etched Dies
S2-197 Ferns Etched Dies
S4-136 Classic Hearts Etched Dies
S5-277 Ruffled Flowers Etched Dies
OTHERS:
Cardstock in Your Choice of Colors (I used deep red, red, coral, two shades of green and aqua)
Globe (New or Used)
Black Acrylic Paint
Paint Brush
White Paint Marker (Thin Tip)
White Tracing Paper (Optional)
Gold Opaque Metallic Paint Marker
Gel Medium
Clear Satin Spray Paint
Small Map Pin
Scrap of Thin Ribbon