Creating a Geometric Home Decor Piece with Simple Anemones
I think it's always fun to take a look at all the home decor furnishings that are on trend  right now. Actually, it's one of my passions.  I have my favorite styles, colors and designers that influence my look in my home.  What about you?  Where do you go for inspiration? With the color gold and geometric shapes still being popular, I thought I would share with you this home decor piece I designed.Hover over the image below to see what I used in creating this project: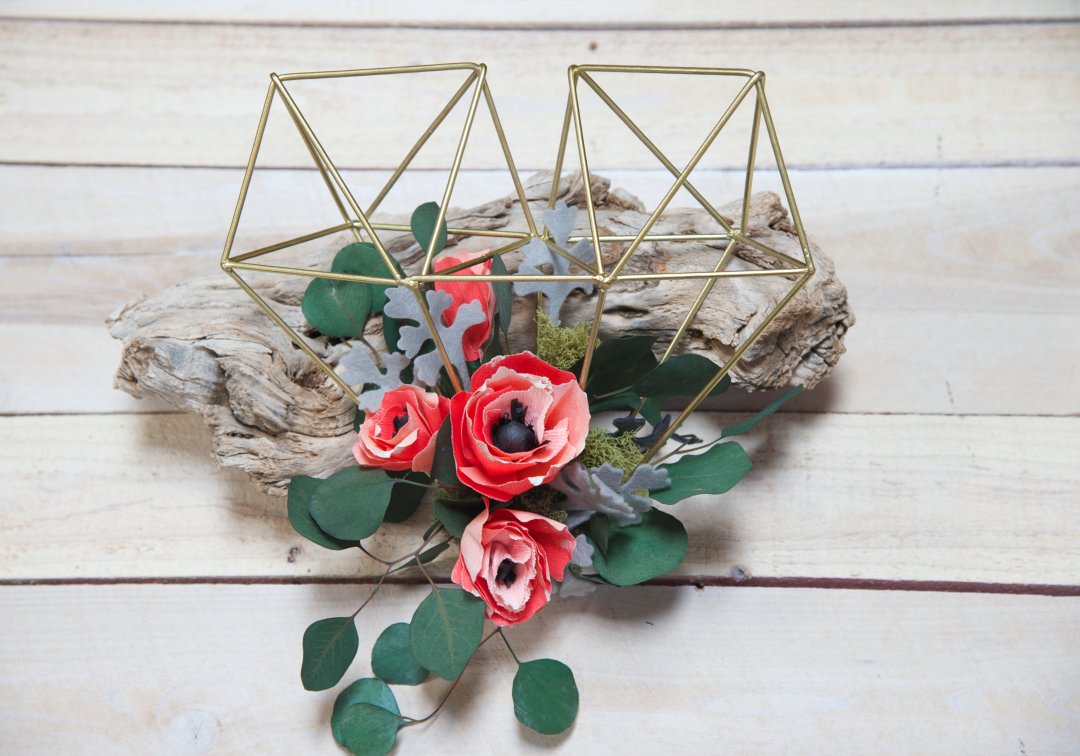 So grab your glue gun and we'll get started.
Attach a small piece of floral foam to the base of the geometric object using hot glue and 22 gauge floral wire.
Adhere moss to floral foam.
Insert eucalyptus pieces into foam base as indicated.
Die-cut Anemone leaves from felt using Simple Anemones die.
Use craft glue to attach lightweight wire to back of felt leaves.  Allow to dry then insert into foam base.
Insert a piece of 18 gauge floral wire with a bit of hot glue on the end and insert into the base of a small styrofoam ball.
Wrap a circle of black tissue paper around ball and secure in place with floral tape.
Cut a 1 x 3″ of black tissue paper.  With scissors, make small "eyelash"-type snips down into the 1 inch section of the strip being careful not to snip through to the bottom.  Snip the entire 3 inch strip in this fashion.
Use fingers to curl strips slightly and then adhere to base of covered ball.
Die-cut several petals from crepe paper  using Simple Anemones die.
Attach petals to base of covered ball with hot glue.  Continue to add petals by overlapping each one slightly until the desired size of flower has been reached.  Pull on the crepe paper slightly to give some ruffle to the flower.  Create several of these flowers.
Insert flowers into foam base where desired.
And that my friends, is it!  The nice part about this decor piece is that it is fairly inexpensive to create.  It is a great way to add a trendy look to your home without a lot of time and investment. Way easier than say, reupholstering a sofa!  I hope you enjoyed this tutorial.
XO,
Debi
You will need the following Spellbinders supplies:
Choice of: PE-100 Spellbinders® Platinum 6™ Die Cutting and Embossing Machine or PL-001 Spellbinders® Platinum™ Machine
SR-037 Simple Anemones Contour™ Steel Rule Die
Others:
Crepe Paper of Your Choice (I used doublette crepe paper because it has two different sides with complimentary colors.)
18 gauge and 22 Gauge Covered Wire
One Geometric Metallic home decor piece (I got mine at a hobby store.)
Dried Eucalyptus Leaves (Again, got at a hobby store.)
Gray Felt
Small Styrofoam Balls (At the party section of hobby store.)
Green Floral Tape
Black Tissue Paper
Scissors
Moss
Floral Foam