Maker Moments: A Joyous Celebration Party Planning
Well this is the beginning of an exciting week. Today I get to feature my dear friend and fellow designer, Sharyn Sowell's collection, Joyous Celebration. It wasn't hard to create with her dies or stamps because they are delightful. Of course nothing screams celebration more than a card and a cupcake. Take a peek and tell me what you think. All of these projects go together quickly and easily.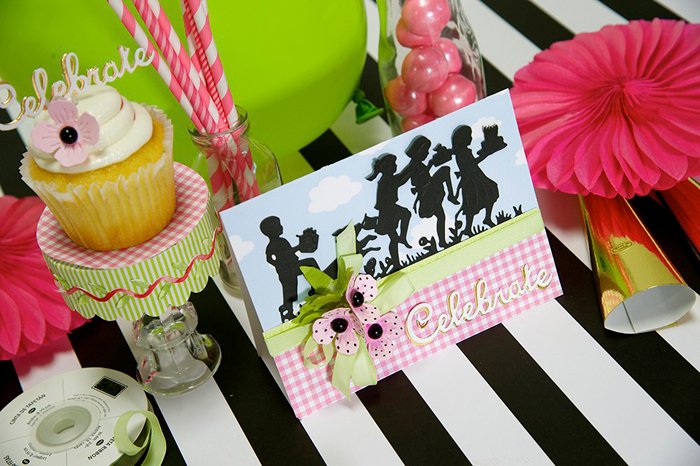 How fun is this? And that parade silhouette, what a dream! So let's get started creating.
You will need:
Choice of: Spellbinders® Platinum™ 6 Die Cutting and Embossing Machine or Spellbinders® Platinum™ Die Cutting and Embossing Machine
For the CARD you will need:
S3-2645 Sentiments Etched Dies
S4-752 Party Kids Etched Dies
S3-266 Border Flower Etched Dies
Your choice of: Cardstock, Patterned Cardstock and Color Markers; Ribbon; Black Epoxy Dots; Gold Poster Board
Die-cut the Party Kids, Sentiments and Flowers from various card stock. Die-cut Sentiments from gold poster board.
Adhere the top strip of patterned paper to a 4 1/2 x 6″ card base.  Adhere the Party Kids to the top of the patterned paper so that the heads are almost touching the top of the card.
Attach two more strips of patterned paper to the card base having the middle strip cover up the bottom band on the Party Kids die piece.
Tie ribbon around card. Attach the two Sentiments together and adhere onto card.
Embellish Flowers with markers and adhere close to bow.
Attach epoxy dots to center of Flowers.
For the CUPCAKE,  follow the instructions for the Sentiments and the Flowers above.  Attach Sentiments and Flower to a toothpick and insert into cupcake.
For the CUPCAKE STAND, you will need the following:
S3-263 Edging Leaf Etched Dies
S4-114 Standard Circles Etched Dies
One Candlestick Holder
Die-cut the Edging Leaf twice. Die-cut the middle size of the Standard Circles from cardstock and patterned paper.
Adhere the plain Circle to a candlestick base.
Adhere the two wide Edging Leaf pieces together at one end. Adhere and wrap the Edging Leaf around the plain circle, folding tabs down on top of Circle base.
Adhere the patterned Circle to the top of the solid Circle base.
Die-cut several strips of just the Leaves from white card stock. Color with markers as desired. Attach to edge of Edging Leaf.
Well that is about it? Do you think you can create these party pieces?  I would love to see what you have been up to lately.
XO,
Debi