Last month on Valentine's Day, my sisters and I made a special card to give our children for their first Valentines without their Grandma aka…Nunnie. "Love you to the Moon and Back…" was a phrase she often used with each of them when saying goodbye. We all miss her dearly and will always & forever…Love HER to the Moon and Back!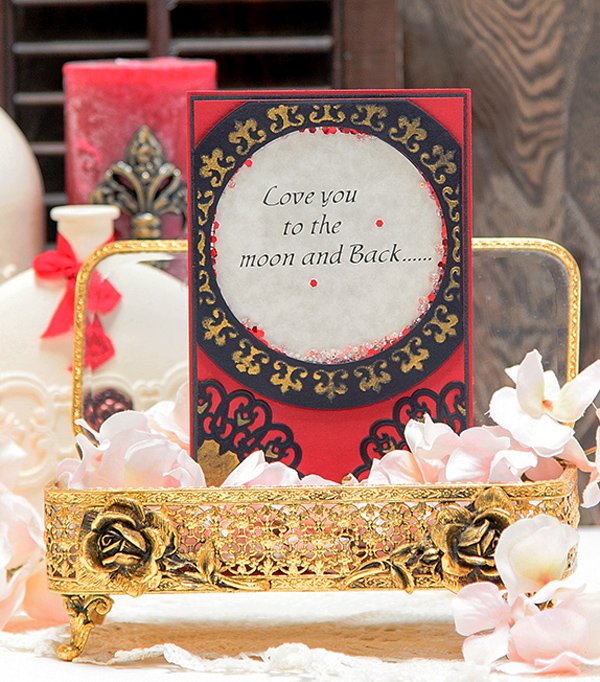 Let me share with you how this special card was created…
1. Using black cardstock, cut out all the dies needed in S5-276 Fleur De Circle Etched Dies from the Rouge Royale Deux Collection by Stacey Caron Design. Tip: The Fleur de Circle Set's Frame Large Die is designed to fit a 5 x 7 inch card.
2. Using the red cardstock, create a 5 x 7 inch card base
3. Using the die template as a stencil, apply gold metallic paint to accentuate and add color to the embossed detail of the Frame Large Die and Circle Die. Tip: When using the gold acrylic paint, less is more to prevent "bleeding" thru the stencil portion of the die in undesired areas.
4. Using your computer font, print a phrase appropriate for your card.
5. Adhere sentiment to deep red cardstock. Fill center with beads and confetti, tape acetate into place to secure window for beads and confetti.
6. Trim the center dies to create the beautiful corners of the deep red cardstock.
7. Mat the deep red cardstock base to the shimmer black cardstock. Then mat the shimmer black onto the deep red 5 x 7 cardstock.
Spellbinders® Supplies Used:
Spellbinders® Grand Calibur® Die Cutting and Embossing Machine or Spellbinders® Platinum™ Die Cutting and Embossing Machine or Spellbinders® Platinum™ 6 Die Cutting and Embossing Machine
S5-276 Fleur de Circle Etched Dies from the Rouge Royale Deux Collection by Stacey Caron Design
Spellbinders® Tool-N-One™
Other:
Scrapbook Adhesives by 3L®: Crafty Foam Tape Black
Deco Art: Gold Acrylic Paint
Tombow: Tape Runner
Marco Paper: Black Shimmer and Deep Red Cardstock
Sponge Brush; Beads; Confetti