This Hugs for You – Pretty Borders that Say What You Mean
Hi there, Becca Feeken with Amazing Paper Grace here today to share a card that says what it means. A sweet word here and a sweet word there are always enough to make someones day!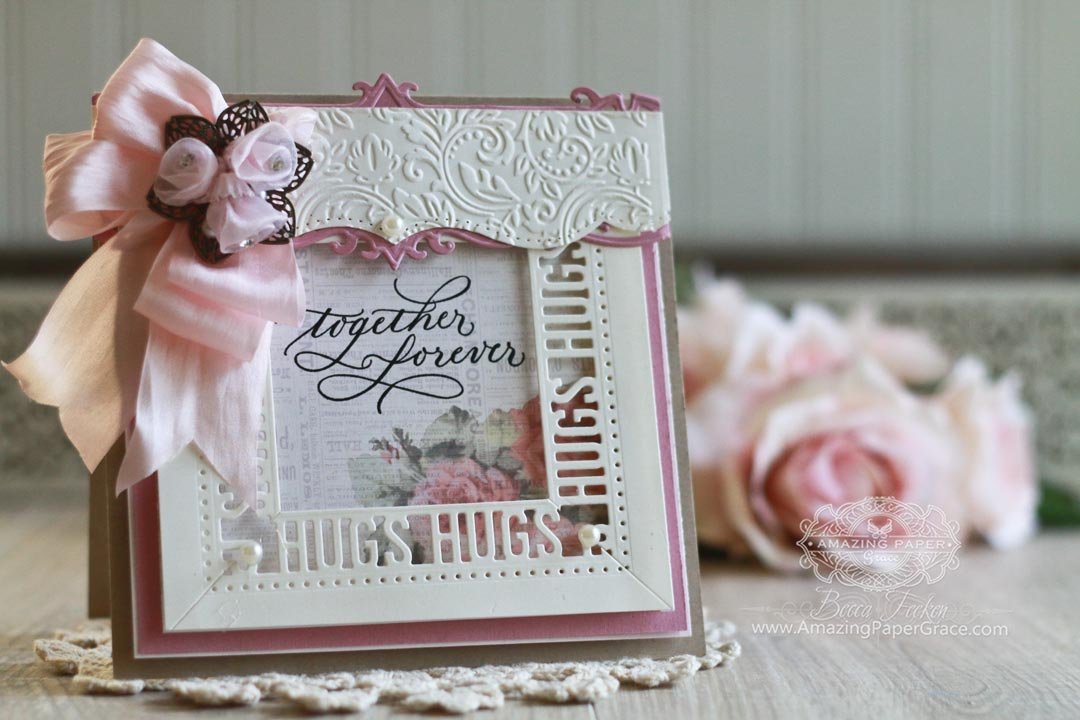 I used the new Graceful Sweet Words border to do exactly that. By cutting with the Graceful 6 x 6 Frame Maker tool, I was able to arrange the words in the border to be front and center, framing my sentiment, and highlighting the word 'Hugs'! Now, no one ever said that a frame has to be exactly identical on all four sides so today I show you how to change it up just a little bit by adding a sweet valance.
Let me show you how the card is made:
Instructions:
1.  Start out with 6″ x 6″ Kraft Card Base.
2.  Layer a 5-1/2″ x 5-1/2″ Vintage Pink panel on top of a 5-5/8″ x 5 5/8″ Pink Matting Layer using foam tape
3.  Stamp sentiment on Design Paper cut to 5-1/4″ x 5-1/4″
4.  Adhere stamped Design Paper on top of Vintage Pink Panel
5. Cut four borders from S4-704 Graceful Sweet Words and trim to 1.5″ from top.
6.  Using S6-112 Graceful 6 x 6 Frame Maker, center the words hugs as shown.
7.  Tape down border on all four sides then run through PE-100 Platinum™ 6 Die Cutting And Embossing Machine – 6″ Platform to cut all four borders at the same time.
8.  Reassemble border right side down taping each miter.  Adhere border to card with foam tape.
9.  Emboss a cream panel using SES-007 Floral Embossing Folder.
10. Place S5-181 A2 Bracket Borders One diagonal across panel and cut, trim to 1.5″
11. Adhere A2 Bracket Borders One on top of S4-593 Art Deco – Deco Duality and trim ends.
12. Adhere panel to top of card and add ribbon.
One little border will wrap it all up with a hug!  So there you have it! 
Sending hugs!  
Becca Feeken – www.amazingpapergrace.com
Spellbinders Supplies:
Other Products Used:
Quietfire Design Rubber Stamp, 3M Foam Tape, Score Board, Ruler, Paper Trimmer, Ribbon, Tulle Flowers, Pearls, Versafine Onyx Black Ink