Maker Moments: Cut, Emboss and Stencil
Welcome to Monday and Maker Moments. I'm Debi Adams and today I want to show you some ways to use our dies that you may have not considered before. Did you know that a large portion of our dies can be used as stencils and as embossed images? Using the Hello Geo Heart and the Blue Bells and Lily of the Valley die, I will show you how simple these applications can be. Hover over the image below to see everything that was used to create this project.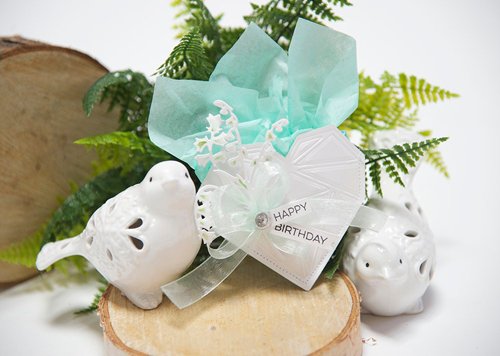 First die-cut the cardstock using the outline portion of the Geo Heart as shown on the left. Then place the detailed portion of the Heart over the outlined piece as seen on the right.
Turn both pieces over (the paper and the heart) and place on your platform. The paper should be facing you. Place the tan rubber mat and the purple embossing plate on top of the paper and the designed Heart and run them through the machine. By using these two pieces instead of the cutting plate, it will create a design that is imprinted rather than cut out, as seen below.
Now stitch two Hearts together on the side.
Now we are ready to add the flower embellishments and color them by stenciling.
First die-cut the Blue Bell and Lily of the Valley from cardstock.
You can emboss them further by using the tan rubber mat and embossing plate again or you can leave as is. Using the sponge applicator with your Tool 'n One, apply ink to the inside portion of the die as seen here.
When you have them colored the way you like, simply attach them to the sewn Geo heart.  Add a bow, a button and/or a sentiment to complete the look.
Spellbinders® Supplies:
PL-001 Spellbinders® Platinum™ or PE-100 Platinum™ 6 Die Cutting and Embossing Machine
S4-677 Hello Geo Heart Etched Dies
S3-207 Blue Bells and Lily Of The Valley Etched Dies
T-001 Tool N One™ with T-007 Foam Applicator – Circle for Tool N One™
Other:
White Cardstock; Ribbon; Button; Sentiment; Ink of Your Choice; Embellishment; Sewing Machine (Optional)
Such easy techniques that add texture and color without having to buy anything else. I hope you will give it a try!

XO,
Debi Adams