Create a Stunning and Dimensional Gift Wrap
Hello, Sharyn Sowell here to share a striking way to present a gift to someone special using the Border Flower Etched Die Set from my Joyous Celebration Collection. Everyone loves a gift. But a gift that's wrapped beautifully is even better, don't you think?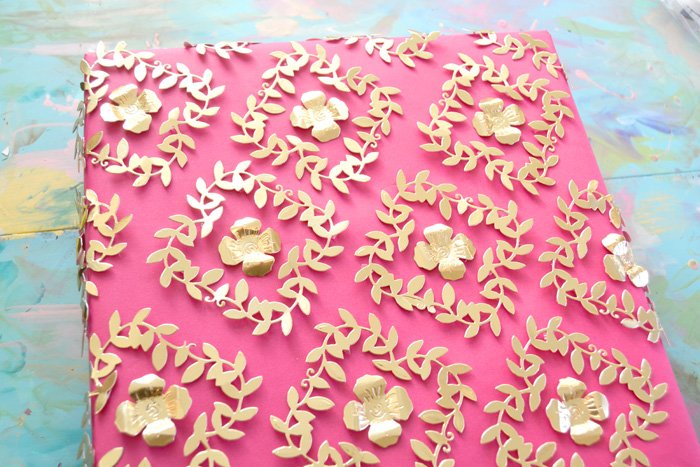 In just a few minutes, it's easy to go from that boring gift bag and plain tissue to die-cutting a fabulous dimensional gift wrap. Here's how!
1. Wrap your gift box with a plain colored gift wrap. I usually use a two piece box (lid and base) and wrap only the lid. My family loves these pretty boxes so much they save them to use for gifting later, or sometimes use the boxes for storage – nice enough to leave out all the time.
2. Cut a stack of Border Flower Etched Dies. The amount you need depends on the size of your box. In this sample I used a big sheet of lightweight metallic poster board from a craft store. It's the same thickness of card stock and cuts easily, but I often choose two colors of card stock that contrast with the gift wrap color.
My favorite accessory for die cutting always makes an appearance for tasks like this: the Tool N One™. It makes getting all those tiny bits out and clearing the die lightning fast. A real must have for your tool kit!
At this point I'm known for pulling out the chocolate! Doesn't everyone eat chocolate while crafting?
3. Next lay the cut pieces on the box and rearrange until the pattern looks nice. Then use thick glue dots to stick the leaf pieces into place.
4. Shape the flower petals a little with fingers to add more drama and dimension to them. Use glue dots to add a flower to the center of each leafy piece.
5. Time to make someone feel very special. What an easy way to make a package pretty
Spellbinders Supplies:
S3-266 Border Flower Etched Dies
Spellbinders® Platinum™ 6 Die Cutting and Embossing Machine
Tool N One™.