Mixed Media Memory Pieces from the Spring Love Collection
Since I am not a crafter "by trade" I worry about my crafting content when compared to these magnificent crafting geniuses that dominate this industry. I guess I am the girl next door crafter! Can't be mad at that…
I have come away with a unique kind of inspiration after looking at so many unique ways to craft… I am inspired to create in my own way and am wiling to risk my projects not being at a professional standard in order to do so. While I would love to learn so many of the techniques out there and replicate amazing projects, I find my own style and process to be much more cathartic and rewarding. I am of the mindset: Don't tell me what to do!" Always have been, ask my mom.
I created some fun and cute little mixed media memory pieces. They could totally be put in a scrapbook or art journal or given to folks. I actually went and found some adorable mini basic three ring binders at the office supply store with matching clear plastic sleeves to hold them. Simple, effective and reliable. My style! It isn't flashy but this mom of three small loud children needs simple and effective as often as possible! Hover over the image below to see everything I used to create in this post.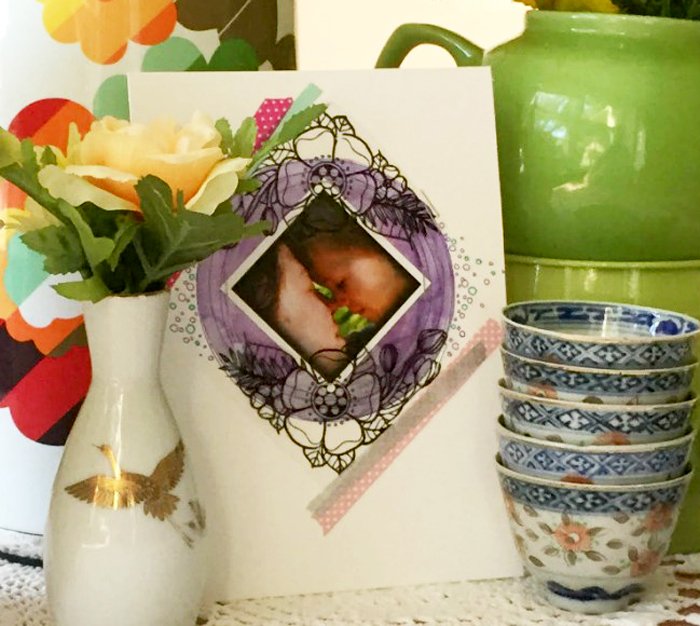 I often get my Instagram and Facebook photos printed by Social Print Studio and love the miniprints. These small square photos are perfect for this project. Small and sturdy and the white border around the image helps it stand out against the work behind it. I love printing my social media photos because I feel that those are the highlight reel of the thousands of photos that are clogging up my phone memory. They are the best of the best. The most memory provoking images.
When I start one of these projects I start with an image first. I will thumb through my stack of photos and pick one that speaks to my memory. After this I will start to assemble options for color scheme and which stamps will work with it and what feeling I want to convey. I don't start with any plans aside from these basics. Then I will just start building and assembling and playing until I get the impression that it is finished. I know that is a vague description and not easy to follow but I don't have much of an equation. I just wing it and have fun.
Supplies and materials:
Stamps and Dies! Of course I use Spellbinders stamps and dies, obviously. I love the simple set of circles to use for cutting but also for circle templates for painting in a circular area or adding line work by tracing the die. I use the largest die cutting machine because I often use large paper.
For paper I use mixed media paper so that I can paint on it before hand. I like to paint all (most…) of my own backgrounds and embellishments! It adds creativity and personalization.  I also used acetate sheets (also known as transparency paper – like the stuff used on over-head projectors before technology made it obsolete!) and stamped the images on it using a permanent stamp pad like Staz-On. Yupo paper is also a staple for me. I suggest if you want to use it that you check out some tutorials on YouTube first so you know what to expect. It can be so very much fun to play with!
I am obsessed with Sakura's Gelly Roll pens so those will almost always make an appearance in my work because, obviously, they are the BEST!
I love Daniel Smith watercolor paints which is what I own and use often.  However, I just recently discovered Prima watercolors at the Creativation show last month and canNOT wait to get my hands on some of their paints. They have an iridescent or shimmery set that I have been having dreams about on the regular.
Yupo paper responds very well to alcohol ink so I like to use that, but you should use a heat gun to dry it because it takes hours to dry otherwise.
Washi tape, glue dots, stapler, and a little bit of begging makes it all stick together!
Spellbinders® Supplies:
SDS-061 Feather And Beetles Stamp And Die Set From The Spring Love Collection
SDS-062 Earth Laughs Stamp And Die Set From The Spring Love Collection
SDS-065 Swallow Stamp And Die Set From The Spring Love Collection
S4-114 Standard Circles LG
S4-116 Standard Circles SM
Spellbinders® Platinum™ Die Cutting and Embossing Machine
Others:
Mixed Media Paper; Acetate Sheets; Yupo Paper; Daniel Smith Watercolor Paints; Sakura's Gelly Roll Pens; Washi Tape; Glue Dots; Stapler
Happy creating folks! Be sure to tag me in your creations so that I can see what amazing things you make!
#CreateEveryday