Maker Moments: The Making of a Man's Abstract Shirt
Well as I stated a couple of weeks back, I want to start featuring some masculine projects here on the blog. So today I am continuing with that thought and embellishing a men's shirt. It is created in the same manner as the men's hat with the exception of one more product, that being bleach. Hover over the image below to see everything I used to create this project. So let's get moving.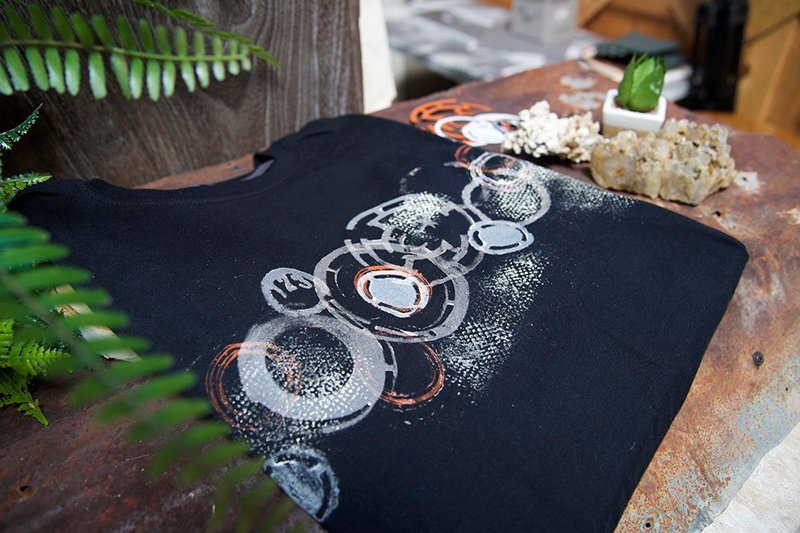 You will need:
PL-001 Spellbinders® Platinum™ or PE-100 Spellbinders® Platinum™ 6 Die Cutting and Embossing Machine
S4-743 Broken Maze Etched Dies
S4-745 Shield Etched Dies
S4-740 Trifecta Etched Dies
SBS-016 Dot Matrix Stamp
Others:
Men's Cotton T-shirt
Cardboard Insert for T-shirt
Acrylic Paint or Fabric Paint-(fabric paints keep fabric soft)
Bleach
Paper Plate
Poly Foam
Die-cut several of the shapes from poly foam. Adhere to an acrylic block using removable adhesive.  Here are a few of the dies. Aren't those shapes unique? Makes the art that much more exciting.
Place a piece of cardboard inside the shirt to protect the backside.
Create a paint pallet on a paper plate with acrylic/fabric paints and spread thinly.
Stamp die pieces into paint and then onto shirt.
Do the same with the rubber stamped pieces.
Fold some water-dampened paper towels onto another paper plate and add some diluted bleach. Using some of the die stamps, dip into the mixture and stamp onto the shirt. This will change the color of the t-shirt. Notice the "rusty" pieces below.
Pretty amazing right? I know you can do this. I would love to see your creation.
XO,
Debi