Fresh Squeezed Party Favors with Market Fresh
Fresh off the delivery truck and right to your door, Market Fresh is my latest collection of dies and stamps that are in house and ready for a healthy dose of crafting! The idea for this line came about as I observed people choosing a healthier, organic lifestyle and realized there was no representation of that in the crafting world. So today I thought I would show you how fun and versatile this collection is and there's no better way to do that than with party favors! Wouldn't you like to wake up to this at your breakfast table? Hover over the image below to see what I used in my projects.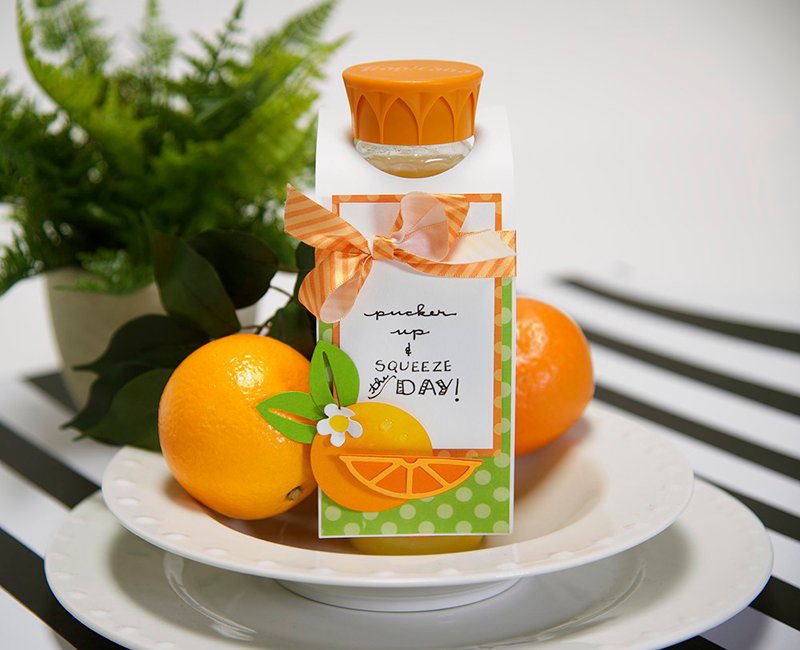 So let's now get making!
List of supplies:
PL-001 Spellbinders® Platinum™, PE-100 Spellbinders® Platinum™ 6 or PZ-100 Spellbinders® Prizm™ Machine
S4-718 Make Mine Lemon-Lime Etched Die Set
S4-722 Orange You a Tomato? Etched Die Set
T-001 Tool 'n One™
Individual Container of Juice
White, Green, Lt.Orange, Deep Orange and Yellow Cardstock
Patterned Paper of your choice
Sentiment
Ink
Ribbon
Pop Dots
Cut a piece of white cardstock 2 7/8 x 7 1/2″. Using the Orange die-cut, cut a circle beginning 1/2″ from the top of the rectangle and half way between the two sides.
Cut a piece of patterned paper 2 3/4 x 4 1/4″ and adhere onto the bottom half of the white cardstock.
Cut a piece of white cardstock 2 1/4 x 3 1/2″.
Cut a piece of patterned cardstock 2 1/2 X 4″.
Stamp sentiment onto smaller white cardstock then adhere it onto smaller patterned paper using pop dots.
Attach entire piece onto large, white rectangle piece.
Tie ribbon around the middle
Die-cut Orange, Leaves, Slice and Flower from corresponding paper.
***Now here is where the fun part comes in and here's how to make your fruit look realistic. When you cut out the Orange, try cutting it out in a lighter shade of Orange or even yellow. Use the Tool 'n One foam applicator to embellish the fruit with a deeper shade of ink. Try using orange ink on the yellow paper. Reality is, fruit is not one color.***
Isn't that cool? You can do this with your Leaves as well.
Now attach all of the pieces to the original rectangle, using pop dots and adhesive where needed. You will need to take the top of the juice in order for the tag to fit onto the bottle.
And that's it!  Did you have enough fun that you are ready to do another one?  I got you covered. Keep going for another project with instructions.
You will need one of the machines listed above plus the following:
S4-719 Aren't You Sweet Etched Die Set
Tic-Tacs
Pink and Green Cardstock
Patterned Paper of Your Choice
Ribbon of Your Choice
Small sentiment
Tiny Flower
Twine
Use the patterned paper, wrap the Tic Tac container two-thirds of the way down and adhere in place.
Tie ribbon around box.
Attach additional colored ribbon bow to box.
Die-cut Strawberries from pink cardstock and Leaves from green cardstock.
Apply ink to Strawberries and Leaves using the Tool 'n One with foam applicator.
Adhere Strawberries and Leaves together and then adhere to bow. Stamp sentiment onto small piece of cardstock and adhere to bow. Tie bow from twine and adhere in place. Adhere small flower to top of bow
So sweet, eh? Did you do it? Very inexpensive but big on wow!
Glad you checked in.
XO,
Debi