From Wardrobe to Art Book: Fabric Art Journal
Hello, friends! This is Yana Smakula. What do you do when you come to U.S. eat a lot of yummy food and can no longer fit into your favorite pants? You use them for an art project! Hover over the image below to see what product I used.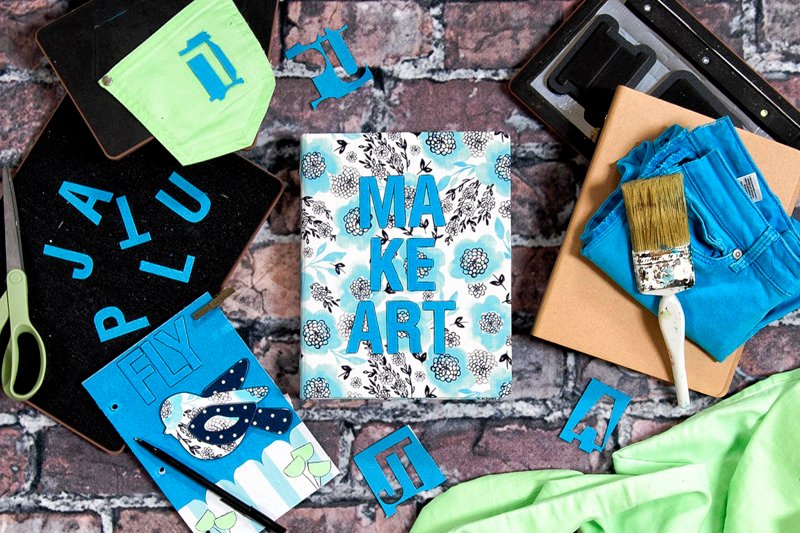 I'm sharing a first post in a mini series titled "From Wardrobe to Art Book" where I'll show you an art journal created using Spellbinders® products, old jeans and shirts and some pretty fabrics.
I encourage you to join me in creating an Art Book of your own. Let loose, die cut, up-cycle and enjoy!
Let's start with the base for the book. I am using 3 Ring Binder by Seth Apter for my book. I took the inner pages out and decided to create my own using Change-A-Page Contour™ Steel Rule Die by Seth Apter and various materials around my desk in the office (Winnie the Pooh cardboard box, mat board, thick leather, sticky notes, notebook and cork board).
You can cut a variety of things using a Contour™ Steel Rule Die – much more than when using a thin, etched die. You can even cut an old coat or jacket you no longer wear!
To decorate my book cover I wrapped it in pretty floral fabric on the outside and use my old pair of jeans on the inside. I used Therm O Web PeelnStick™ double sided adhesive sheets to adhere both fabrics.
For the inside of the cover I used the part of my jeans with the pockets so that I could actually put something inside – like a paintbrush or a few pens to doodle in my book.
The decorate the front cover I used Type-Oh! Contour™ Steel Rule Die and die-cut "Make Art" title out of my old jeans. I added double sided sticky to the back of the fabric before cutting it to make it easier to adhere letters onto the cover.
To help my letters pop and stand out I used a regular black pen (test it on a piece of scrap fabric first to see if it will write) and outlined each letter to add a bit of a shadow. I later outlined every single element in my book to help it pop.
I am still working on my book and loving every single moment of it. I plan to also decorate the spine and the back cover and to add a little closure to be able to close my book as I feel it will get thick quickly.
Here's a preview of one of the pages I have on the inside:
Spellbinders supplies:
I encourage you to purge your closet and up-cycle the things you no longer need for an art book! Have fun die-cutting!