Turn on Side, Cut on Fold, Rock a New Look
Hi there, Becca Feeken with Amazing Paper Grace here to show you an easy way to double the use of your large card front sized dies. Scroll down, I have much to show you!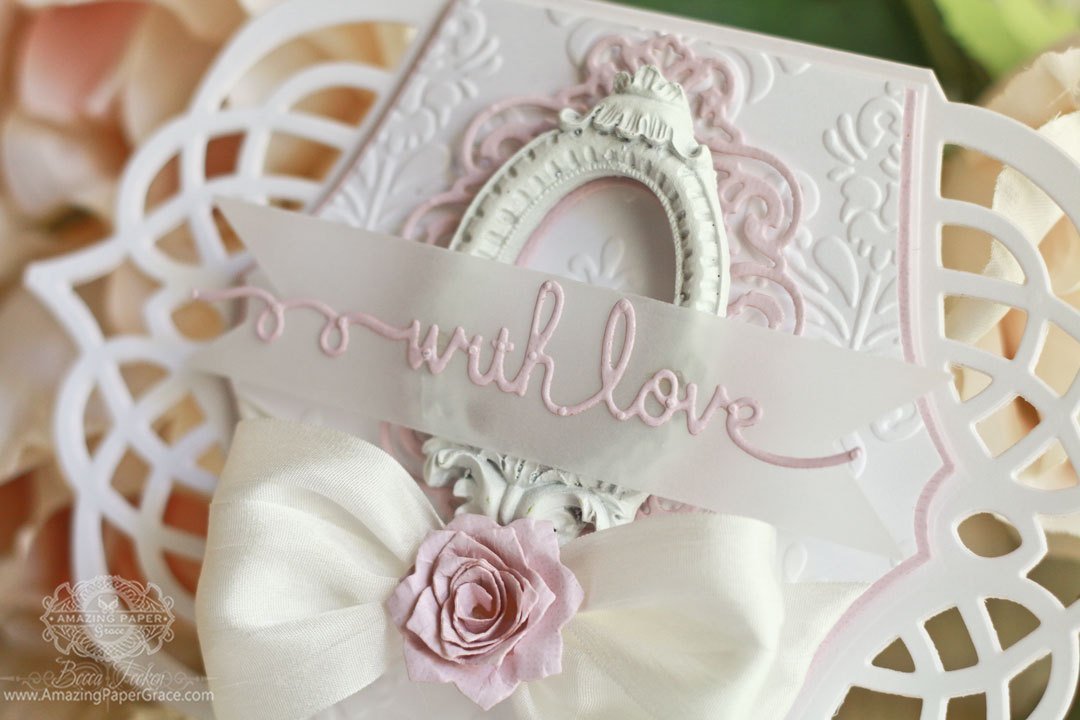 Even though you are accustomed to looking at your card dies straight on, with a portrait orientation, I challenge you to take it to the side and cut on the fold. This extends the use of a die, often makes for a shaped card and gives you a unique perspective on which to built your card layout. It was sheer serendipity that changed the upright label of S6-078 Regal Allure to a sideways card. Let's start out by cutting a card on the fold – once we have the base to work with, the rest is easy.  Let's walk through it visually:
Instructions:
1. Score a large white card sized panel in half and cover with S6-078 Regal Allure except, make sure the straight edge is just inside the fold.
2. Once cut, use inner die with S6-078 Regal Allure to cut one panel of pink and one panel of white.
3. Emboss the white die cut panel with SEL-008 Medallion Embossing Folder; secure pre-tied bow to front of panel, anchor in back with tape.
4. Cut the pink die cut panel in half between notches and apply to the back of the white die cut panel as shown. Adhere with foam tape.
5.  Cut/emboss S2-145 Reflection and adhere to base.  On top, attached Resin Frame.
6. Cut/Emboss S5-258 Decorative Swallowtail Tags and S3-139 Sentiment 3, mount pairing on top of Resin Frame.
7. Use T-001 Tool 'n One™ with quilling attachment to spiral roll theS3-241 Pinecones in pink paper for a rose. Adhere to bow.
So you see, a fold is an easy way to make the shape of the die work for you. So glad to share another 'side' of your portrait oriented dies!!
Sending hugs!
Becca Feeken – www.amazingpapergrace.com
Spellbinders Supplies:
Other Products Used:
Neenah Class Crest 80lb Smooth Solar White Card Stock,  The Paper Studio VellumO Coredinations Cardstock – April Lovely, Melissa Frances CX814 Elegance Frame Applique, May Arts Silk Ribbon – White, 3M Foam Tape, Glue Dots, Score Board, Ruler, Paper Trimmer, Pearls