Celebrate the Day with a Tea Light Box Tutorial
Hello Friends! Today I have these tea light boxes to share with you created with Tea Light Box Etched Dies set from my Celebrate the Day Collection by Marisa Job. You can use these tea light boxes to decorate any table, they are the perfect size for a battery-operated tea light.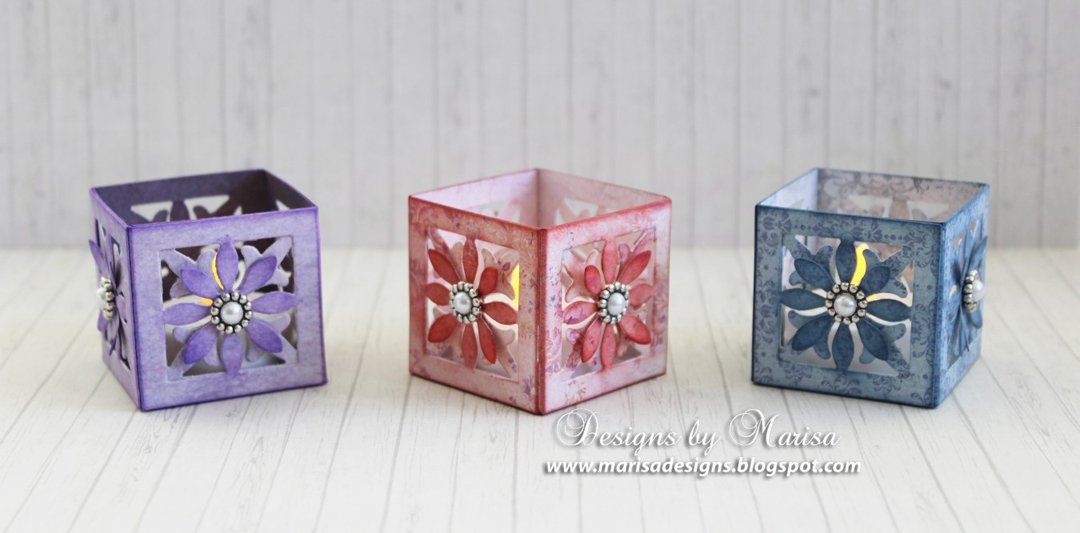 Instructions:
1. Die cut tea light box base with Tea Light Box die from designer cardstock. Fold at scored lines and then color edges with Distress inks and Tool 'N One Foam Applicators.
2. Apply 1/8" wide double sided adhesive tape around middle square on 4 sides as pictured below.
3. Overlap left flower square on top of middle square with adhesive tape and press together to adhere. Repeat this process with 4 sides to form tea light box. The assembled box measures 1 5/8" square.
4. Embellish center of flowers with a pearl and your tea light box is done. Make sure to use a battery-operated tea light.
Spellbinders Supplies:
Tea Light Box Etched Dies
Platinum™ 6 Die Cutting and Embossing Machine – 6" Platform
Tool 'N One™
Foam Applicator – Circle For Tool 'N One™
Other Supplies: 49 and Market Paper (Heirloom Botanicals and Scents of Nature Paper Collections), Simply Defined 1/8" Wide Double Sided Adhesive Tape (Scrapbooking Made Simple), Ranger Distress Inks, Pearls, Battery Operated Tea Light.
Thanks for visiting and have a wonderful week!
Marisa Job
www.marisadesigns.blogspot.com