Two Cards Made with One Die Cut in French Flair Style
Hello everyone, Yvonne here! I am showing you how to make two cards using only one die-cut…simply by making one card using the positive and another using the negative. For today's cards, I will be using Card Creator French Flair Etched Dies from the Rouge Royale Deux Collection by Stacey Caron.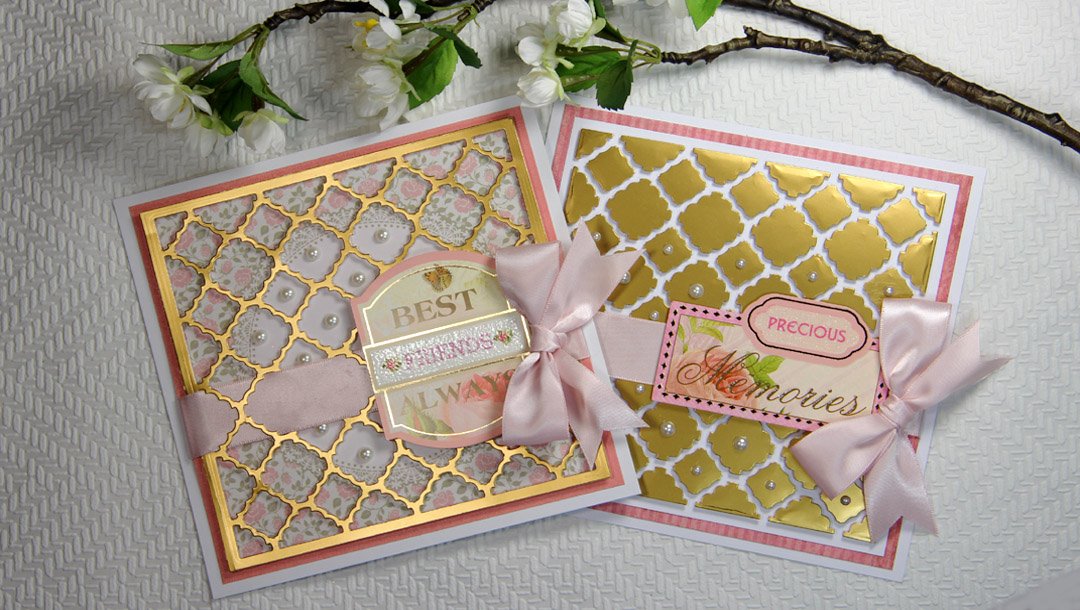 Let me show you how to make both cards!
Card 1: Using the Positive Die Cut
Die-cut French Flair die templates (use the die templates nested) from matte gold cardstock.
Die-cut the outer frame from patterned paper.
Glue the gold die cuts on the patterned paper using foam tape (cut into small squares and stripes).
Mat upon pink cardstock size 6¼ x 6¼".
Thread some soft pink satin ribbon through and glue the ends to the back of the pink cardstock.
Mat upon white cardstock size 6¾ x 6¾".
Embellish using a label, a satin bow and self-adhesive pearls.
Card 2: Using the Negative Bits + Pieces
Place small pieces of foam tape to the back of the negative pieces and then carefully put them back into the die template (used as a guide). Remove the liner from the back of foam tape so it's ready to be adhered.
Carefully put a piece of white cardstock over the template with the negative pieces in it. Then rub gently so the pieces will stick to the cardstock.
Turn over the paper and cut the white cardstock  approximately at ⅛" on all 4 sides.
Mat on a piece of 6¼ x 6¼" pink patterned cardstock.
Add soft pink satin ribbon around the card base (glue the ends on back of pink patterned cardstock).
Mat on a piece of 6¾ x 6¾" white cardstock.
Embellish with a label, satin bow and self-adhesive pearls.
Supplies:
Cardstock: White, Pink, Matte Gold and Patterned
Satin Bow; Printed Images; Self-Adhesive Pearls; Glue; Scissors; Paper Trimmer
It's that simple to create two cards with only one die-cut! Wishing you happy crafting!
Hugs from Holland,
Yvonne van der Valk – van de Grijp