Creating Three Birthday Cards with Same Etched Dies
Hello everyone, this is Elena Olinevich and I am so excited to be a Guest Blogger for Spellbinders. For my first post I created three birthday cards using the same dies. Also I am going to share some of my tips I followed while working on my cards.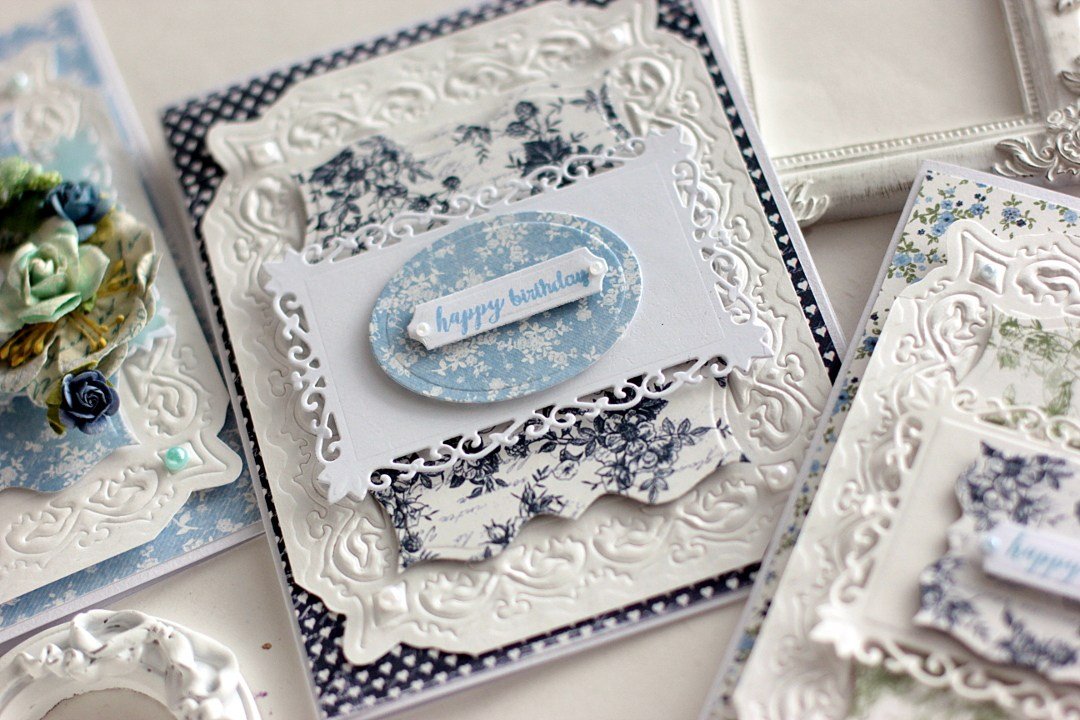 First I started with the Renaissance Vine Frame die that I didn't cut but embossed it using my Platinum 6 Machine. Well sometimes it's fun to stretch your dies and to use them in a different way. So this was a good chance to try how the large frame will turn out while embossing.
It was really great . The result was a rich textured background. I used white cardstock for it and I wanted to add one more frame from the die set.
and as I've created several cards, I experimented with the color of my white cardstock. You can notice that one piece is more lie snow white, and the other one is more like an eggshell. However it is a good way to match your patterned papers.
To separate my frames I added the layers pf floral paper. For the large part I used the Nestabilities shapes.
However you can add the velum layers, in my case the blue one, that I die cut and topped on the small frame. It's better to place it on the foam to make it pop up, however you can skip it .
To place my sentiment I used the extra paper layer , that I cut out in oval shape and then stamped the sentiment and cut it out with the small frame form the main Renaissance Die Set.
Alternatively you can leave your cards simple or you can add the flowers , to make it look dimensional.
But actually I like how they turn out with no flowers too
I have only added the pearls on the angles of the embossed frame. and cut out the paper from the angles, to make it more intricate.
I filmed the process of creating in my video clip
I enjoyed embossing and mixing the different shapes for my cards.
Spellbinders Supplies:
S4-594 Card Creator Renaissance Vine Etched Dies
S4-465 Labels Forty Etched Dies
S4-110 Classic Ovals LG Etched Dies
T-001 Tool 'n One™
PE-100 Spellbinders® Platinum™ 6 Die Cutting and Embossing Machine
Other Supplies:
The Ton Stamp; Hero Arts Inks; Prima Marketing Flowers; Scrapbook Adhesives by 3L® – 3D Foam Squares and Dual Tip Glue Pen