Double Up with a Card and Gift in One for Mother's Day
What fun to make a card that doubles as a gift! This card is extra special with the pretty floral bird heart as a center piece. But it really is a beautiful pin! A sweet little present perfect to wear for Mother's Day, birthday or just a "love you", using the Swallow and Heart Etched Dies Set from my Joyous Celebrations Collection!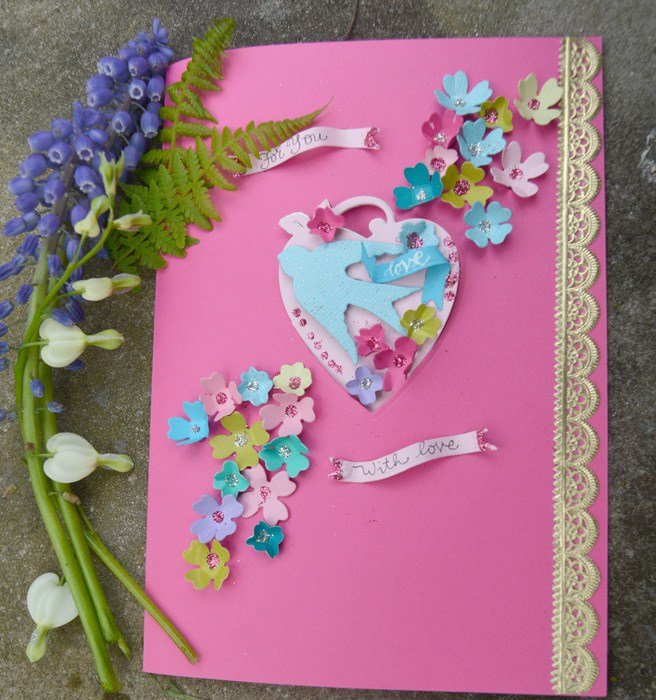 It's easier than it looks and a wonderful way to use those tiny scraps you can't bear to toss out. You'll be using the Swallow and Heart Etched Dies Set, along with assorted papers, ribbon, glitter, glue and dimensional dots.
Start by folding a card base (mine is 5 x 7″ but you can use whatever size you like). Place the Large Heart Etched Die from the Swallow and Heart Etched Dies Set in the center of the card front (secure with repositionable tape) and cut it out with the Platinum™ Die Cutting and Embossing Machine.
Cut out another heart of card stock and glue together both die cuts (one from above step) to form a sturdy base for your pin. Round up lovely scraps that coordinate and cut out plenty of little flowers, a swallow, and a banner.
Use your fingers to bend the flower petals up so they're dimensional. Use dimensional sticky dots to position the bird onto the base heart.
Scatter tiny flowers atop the heart, being careful to keep everything within the heart. It's important not to let the embellishments stick out or your card won't be able to open and close.
Letter a tiny word on the banner and attach as shown. Let yourself go, decorating the heart with glitter, paint, or markers. The fancier the better!
In the photo below you can see how different the card looks when made with patterned paper and a different arrangement of the embellishments.
Now flip the heart over and attach a pin to the back.
Line up the heart pin with the hole in the front of your card. With a sharp pencil, mark the location of the pin and cut two tiny holes so you can attach the pin to the back of the card.
Use whatever tiny flowers you have left to decorate the front of your card, embellishing liberally with glitter, ribbon and other pretties.
Supplies:
Swallow and Heart Etched Dies Set
Spellbinders® Platinum™ Die Cutting and Embossing Machine