How to Make 2-Color, Sweet & Easy Folded Flowers
Because I consider myself flower challenged, I like to design dies for flowers that are easy to put together and will look the same every time you make them.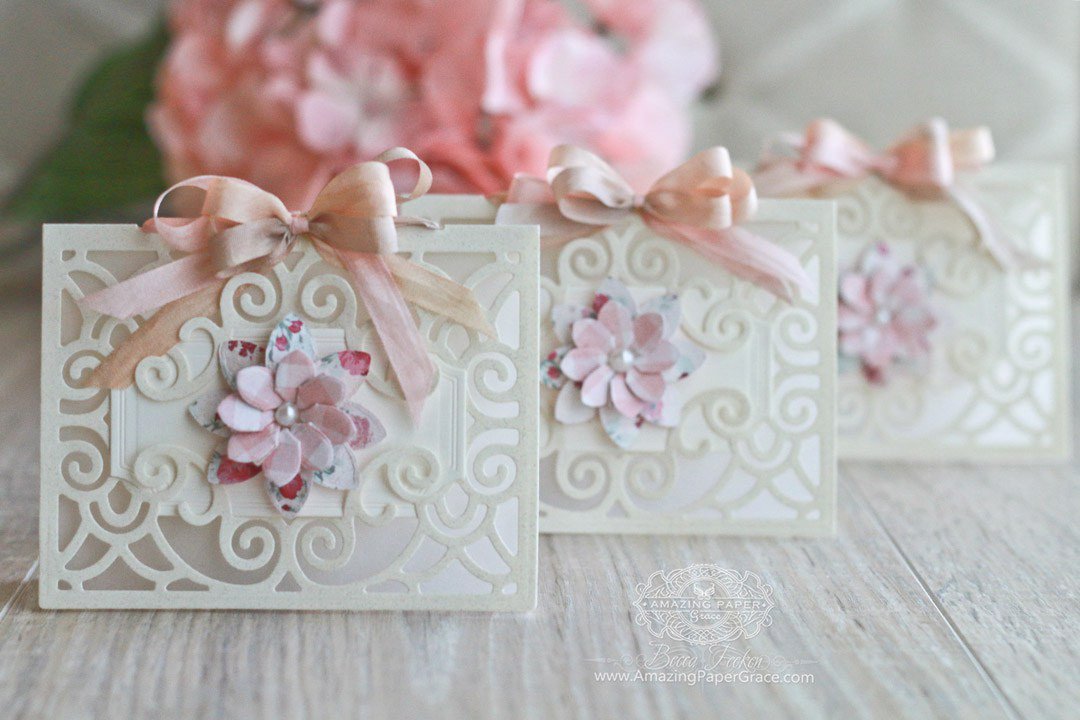 Hi there, I'm Becca Feeken with Amazing Paper Grace and today I'm going to show you how to assemble my S3-251 Vintage Elegance Fold and Go Flower. It's a little bit like simple tea bag folding and it gives you a beautiful double decker two colored flower that will flatten when you mail it!
Dig through your stash and find a paper that has design on both sides – small patterns work best. You might even try a solid/print combinations. No worries if you don't have any double sided paper – one color works just as well. The set comes with four sizes of petals – I often run the whole set, all sizes at once, and reserve the extras for later.
Let's get started:
1. Cut eight petals from the desired petal size.
2. With right side facing up – identify "x" shaped score line that is intersected by a horizontal line. Fold right sides together along horizontal line then open petal and bend wrong sides together along each side of 'x'. Bend petals together again and tuck the horizontal arms to the inside so that the result are two stacked petals that come together at a point.
3. Fold all petals in this manner in preparation for glue – Glossy Accents (recommended). Begin by holding a petal with folded point at bottom.
4. Place a drop of glue inside the left valley.
5. Seat next petal into the glued side with the largest, pushing all the way in until the new petal no longer moves.
6. Repeat steps 4 and 5 until there is one petal left.
7. Put a drop of glue on the left and right side valleys then insert into the final slot.
I made a batch of these flowers and used them as a nice focal point on the front of a set of mini cards made using S5-259 Vintage Elegance Filigree Booklet. With a filigree overlay, lined with vellum – the label from S5-287 Pocket Elegante provides a nice base for the flower. The flowers go together in under two minutes and the mini card keeps it simple and makes it very do-able.
Sending hugs!
Becca Feeken – www.amazingpapergrace.com
Spellbinders Supplies:
Other Products Used:
Neenah Southworth Ivory Granite, My Minds Eye Design Paper, The Paper Studio Vellum, May Arts Silk Ribbon, 3M Foam Tape, The Paper Studio Pearls, Ranger Glossy Accents