Conquer the World Graduation Page
With (Inter)National Scrapbook Day just around the corner (like this weekend!), I thought I would start the week with a scrapbook page. It's of my son's high school graduation a few years back…yes, I'm trying to catch up! LOL! Featuring SR-061 Globe Trotter Contour™ Steel Rule Die as inspiration, I came up with this…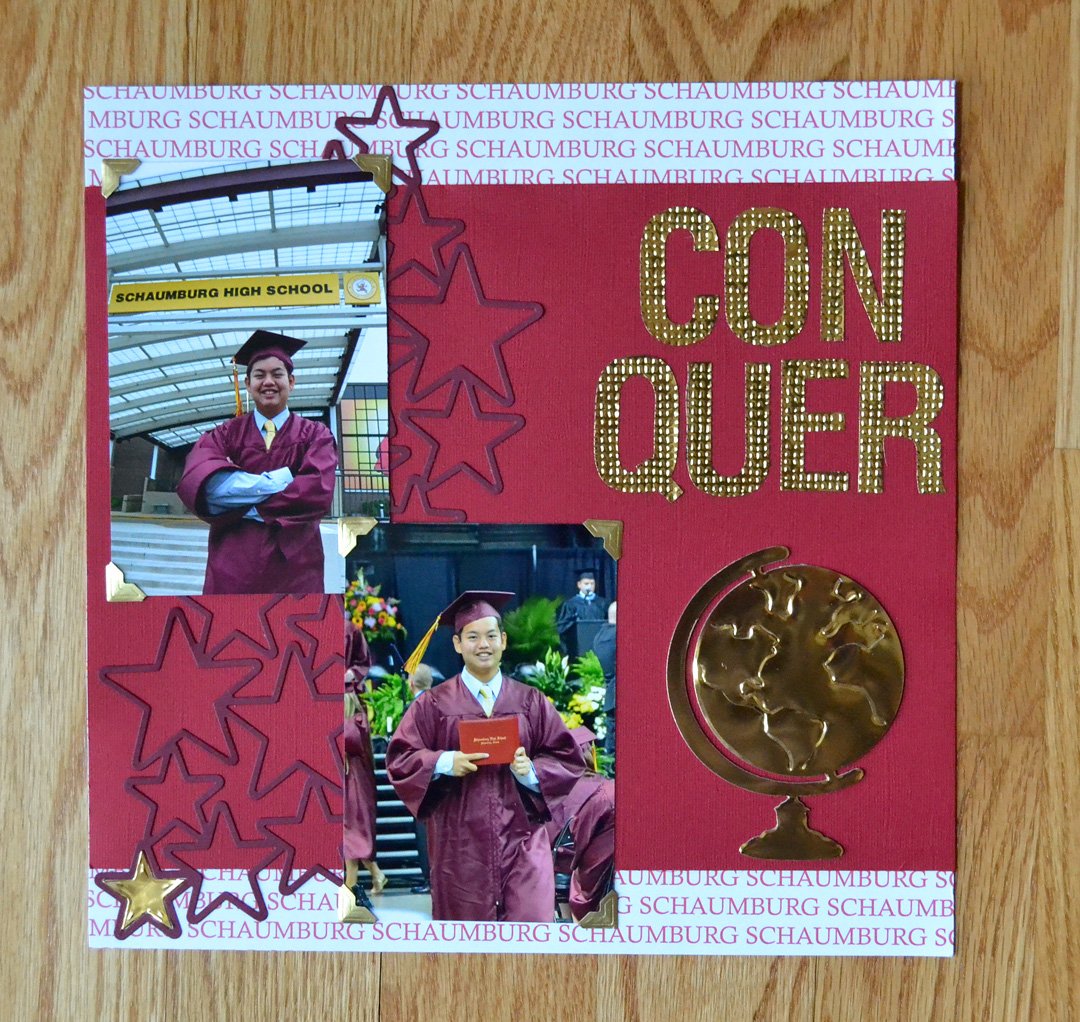 I start with building my background scrapbook page with custom 12 x 12 inch high school patterned paper and layering on top with a 12 x 9 3/8 inch burgundy cardstock using my E-Z Runner® Grand Permanent Strips.
Now for the FUN: Die Cutting! I die-cut SR-061 Globe Trotter Contour™ Steel Rule Die but first I adhered 3D Foam Creative Sheet (double-sided adhesive foam sheet) to the back of my gold mirror cardstock before die-cutting to create an instant dimensional die cut. Cut using Spellbinders® Platinum™ Die Cutting and Embossing Machine and it cuts like butah with no residue.
Next I used SR-011 Type-Oh! Contour™ Steel Rule Die to spell out "CONQUER." This time I used Adhesive Sheets (double-sided adhesive sheets) on the back of my gold mirror cardstock to have edge-to-edge adhesive on each letter. Think alpha sticker. For added interest, I embossed each letter with SEL-006 Horsehair Embossing Folder by Tammy Tutterow. They look like metal!
I didn't like how plain the background was so I added two S5-244 Cascading Stars Etched Die by Donna Salazar die cuts in a darker tone of burgundy cardstock and placed them behind my pictures. I ran out of my adhesive sheets so I used my E-Z Dots® Permanent – it rolls and hits in areas of the die cut. I applied on a scrap piece of cardstock and after I was finished, I rubbed off the excess adhesive. The cardstock is ready to used for another project! I also added a gold star to embed as an accent.
After adhering the photos on top of the Cascading Stars die cuts with E-Z Runner® Grand Permanent and Gold Creative Photo Corners, I finished off the right side by adhering the embossed letters and Globe Trotter die cuts. Write comments on the back of my page and it's done!
What are some of your ideas for a graduation page? Would love to read – share them under comments on this post!
Thanks so much for stopping by,
Margie Higuchi
Supplies:
SR-061 Globe Trotter Contour™ Steel Rule Die
SR-011 Type-Oh! Contour™ Steel Rule Die
SEL-006 Horsehair Embossing Folder by Tammy Tutterow
S5-244 Cascading Stars Etched Die by Donna Salazar
PL-001 Spellbinders® Platinum™ Die Cutting and Embossing Machine
Other:
Scrapbook Adhesives by 3L® (E-Z Runner® Grand Permanent; E-Z Dots® Permanent; 3D Foam Creative Sheets; Adhesive Sheets 6 x 12″; Creative Photo Corners – Gold); Gold Mirror, Dark Burgundy and Burgundy Cardstock; High School Patterned Paper