Quick and Easy Paper Piecing Card featuring Happy Grams 3
And you thought March winds and April showers brought May flowers! Surprise, May also brings new stamps and dies from Tammy Tutterow! The new set featured in this card gives you options for three looks from just one stamp and die set!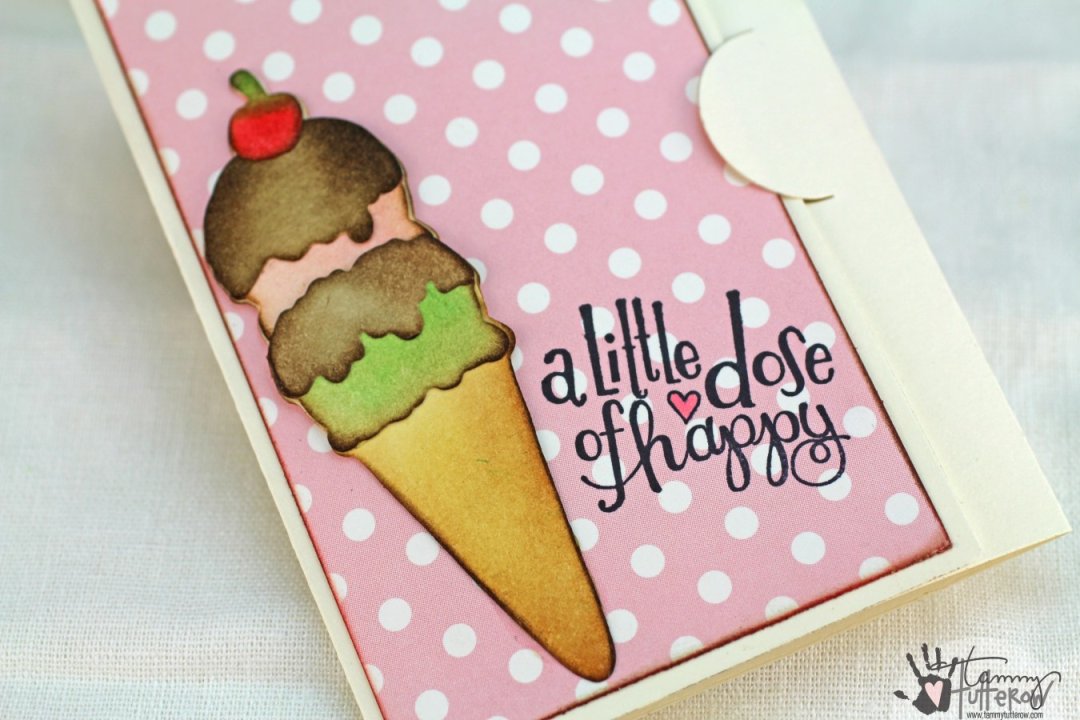 I am so excited to FINALLY get to show you the Happy Grams 3 collection! This collection is my most favorite collection to date and includes some really fun and versatile sets! When I was designing the collection, I began thinking about how much I loved paper piecing when I began scrapbooking. I started thinking about how I could get that look with dies making paper piecing quick and easy!
The SDS-080 Ice Cream Cone Stamp and Die Set includes a cling mount rubber stamp with a cute two-scoop ice cream cone next to a hand lettered sentiment. The set includes several dies that allow you to die cut any part of the stamped ice cream cone. But what I really love is that because you have every part of the ice cream cone in dies, you can cut them out without stamping! Simply die cut, color the pieces, and assemble the pieces for a traditional paper piecing embellishment!
Talk about versatile! Use the stamp alone, use the dies alone, or use the stamp and dies together! Three looks from one set, I love that!
For today's card, I chose to die cut all the pieces from smooth cream cardstock. I colored them simply by lightly applying Distress Ink to them using an ink blending tool. Alternately, you could also cut the pieces from different colors of cardstock.
To assemble, simply layer on the pieces and adhere in place. I like to use liquid adhesive so that I have a little bit of time to move the pieces around if needed. I layered the two scoops of ice cream onto the base piece (the cone), the two layers of syrup, and then the cherry.
You may notice that you have a slight border around the pieces from the base (cone) piece. To disguise that, simply brush the edges of your assembled piece with ink on a blending tool once the adhesive is dry.
My SR-077 Trifold Pocket Page makes a great small card base. After die cutting, cut a piece of pattern paper 2 3/4″ wide by 4 3/4″ high. Adhere the pattern paper to the outside front cover of the die cut.
Adhere the assembled ice cream cone to the lower left corner.
Add a stamped sentiment. I used the "A Little Dose of Happy" stamp from the new SBS-138 Tiny Sentiments stamp set. The set includes 11 small sentiment stamps. These itty bitty and super cute sentiments are sized to fit on the insert card in my mini pocket and envelope dies. They are also perfect for gift cards and tags, the inside of cards and to add a small sentiment next to a posie stamp!
As a finishing touch, I added a small punch of color by coloring in the heart on the sentiment with a hot pink marker.
To use the Trifold Pocket Page as a gift card holder, simply add a small bit of adhesive on the back of the gift card with a tape runner and attach it to the inside of the card.
I love that this gift card holder took less than 20 minutes to create. It is such a great way to add a personal touch to a quick gift like a gift card!
I am so excited about the launch of Happy Grams 3 and can not wait to hear what you think! Please leave me a comment and let me know which new stamp design is your favorite!
Supplies:
SDS-080 Ice Cream Cone Stamp & Die Set
SBS-138 Tiny Sentiments
SR-077 Trifold Pocket Page
Spellbinders® Platinum™ Die Cutting and Embossing Machine
Other:
Cream Cardstock
Patterned Paper
Distress Inks (assorted colors)
Ink Blending Tool
Liquid Adhesive and Tape Runner