Creating a Felt Floweret Hair Clip
Super excited to die-cut felt material with Spellbinders® Contour™ Steel Rule Dies! I used Floweret Posies Contour™ Steel Rule Die and the leaf shape from the Flower Child Contour™ Steel Rule Die on two layers of felt…cuts like butah! AND no glue gun involved! Curious? Join me as I walk you through…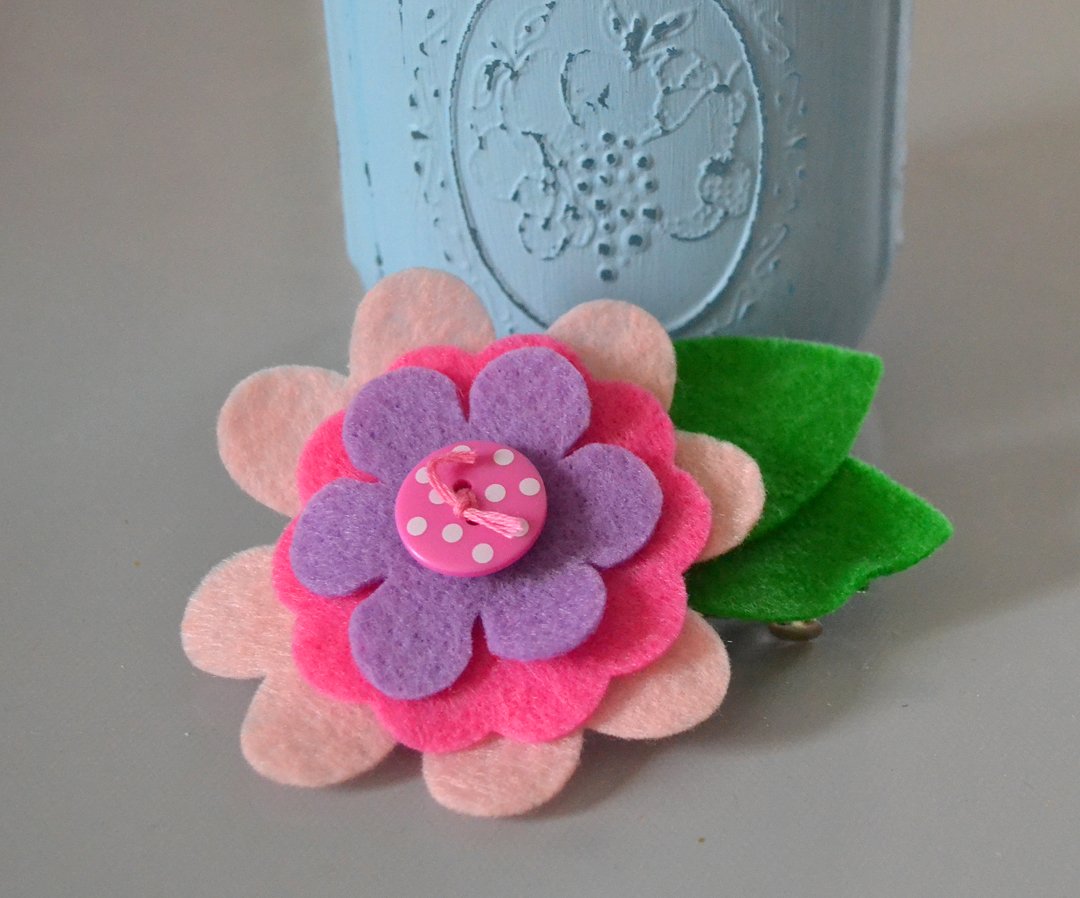 Let me show you how in a few simple steps using my Dodz Adhesive Dots 3D from Scrapbook Adhesives by 3L® (aka my glue gun alternative).
1. Cut light pink, dark pink and purple felt with SR-080 Floweret Posies Contour™ Steel Rule Die and green felt with the leaf shape from the Flower Child Contour™ Steel Rule Die, using the Spellbinders® Platinum™ 6 Die Cutting and Embossing Machine.
2. Using the warmth of your finger, place and press a Dodz Adhesive Dot 3D on each layer of flower to adhere.
3. Repeat the same process with the two leaves. Position the leaves as shown below.
4. Place a Dodz Adhesive Dot 3D on the left side of hair clip where the opening feature is located. Being careful, take off the liner and heat the adhesive dot with a heating tool. While hot, place the leaves on top to adhere. I don't have a glue gun so I use this method (easy + fast) to adhere 🙂
5. Thread the pink fiber through the button holes and knot.
6. Place a Dodz Adhesive Dot 3D on the back of button and center on to the felt flower.
And that's it! SO FUN and EASY! Give it a try!
Margie Higuchi
Supplies:
SR-080 Floweret Posies Contour™ Steel Rule Die by Tammy Tutterow
SR-070 Flower Child Contour Steel Rule Die
PE-001 Spellbinders® Platinum™ 6 Die Cutting and Embossing Machine
Other:
Scrapbook Adhesives by 3L®: Dodz Adhesive Dots 3D
Kunin® Felt: Eco-fi® Classicfelt™ (Baby Pink, Candy Pink, Light Lilac and Apple Green)
Heating Tool
Hair Clip