A Spring Wedding: Rustic Bridal Shower Invite
It's Wedding Time! With spring wedding season upon us, I thought it would be nice to demonstrate how easy and elegantly my new Rouge Royale Deux Collection would fit my sweet friend and bride, Jamie's rustic affair wedding theme. can be utilized. A rustic bridal shower can be so beautiful and offer so many decorating options.
This is the second in a four part series from the first part of A Spring Wedding: Save the Date with Rouge Royale Deux Collection, to today's bridal shower invites with all that goes into hosting the perfect bridal shower, throwing an amazingly fun bachelorette party and last but not least, creating the gorgeous wedding invitations – so stay tuned! Let me show you how I created this stunning shower invitation…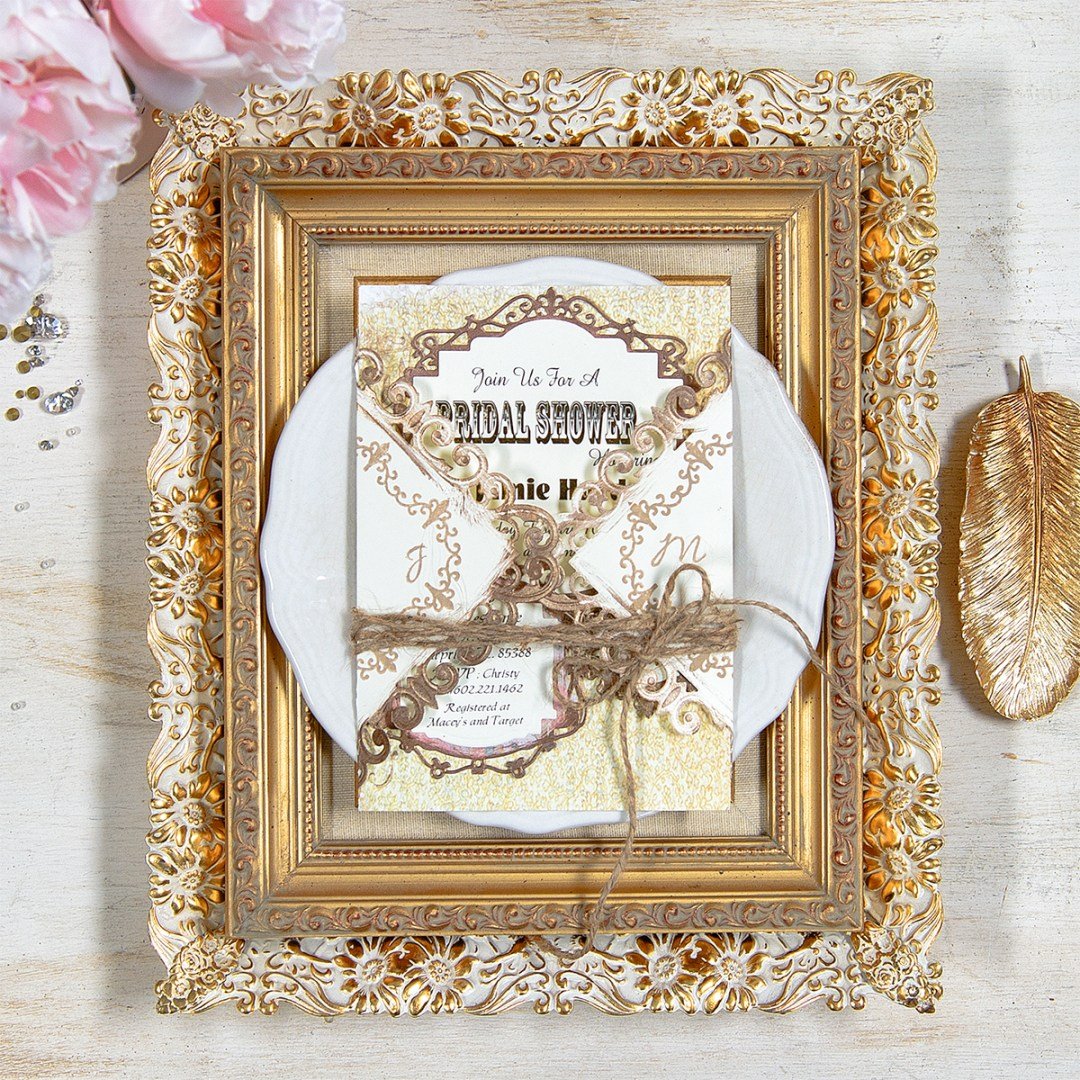 Instructions:
Using Banana Cream cardstock, print out sentiment with a laser printer. NOTE: a laser printer is required if you intend to later foil the sentiments with the Minc Machine.
Step #1 Cutting
Cut a piece of 5 x 7 cardstock
Die-cut S4-735 Labels 58 Etched Dies #1, #4 and #5 (smallest size die is #1) out of Banana Cream cardstock with the Platinum Machine.
Die-cut S6-114 Fleur De Square etched die with Banana Cream paper (cut two times).
Die-cut S4-736 Labels 58 Decorative Elements etched die with Botanique paper.
Step#2 Distressing
Using the Fleur De Square cut out and distress the die cut shape with deco art paint. Use sponge brushes to distress all edges of Labels 58 Decorative Elements.
Step#3 Customize and Embellish Words
A laser printer can be used to customize choice words with the use of Minc Machine.
Step #4 Distress and Embellish
Use SBS-093 Square Magnificence Stamp, stamp image onto white cotton cardstock.
Score S6-114 Fleur De Square 2 1/2 inches from the corner.
Fold the die cut around 5 x 7 card base.
Use SDS-036 Royal Monogram Stamp and Die Set, stamp initials to monogram on folded portion of card.
Step #5 Assemble
5 x 7 inch Card Base
Labels 58 Decorative Elements Die Cut
Place Labels 58 Die Cut on top of Decorative Elements Labels 58 Die Cut
Wrap in Twine to complete Card
Supplies:
PL-001 Platinum™ Die Cut & Embossing Machine
S6-114 Fleur de Square Etched Dies
S4-735 Labels 58 Etched Dies
S4-736 Labels 58 Decorative Elements Etched Dies
SBS-093 Square Magnificence Stamps
SDS-036 Royal Monogram Stamp and Die Set
Other:
Minc Machine By Heidi Swapp
Adhesive Tape Runner
Scor-Pal Scoring Tool
Foam Dots
Acrylic Paint by Deco Arts (Rich Espresso)
Tsukineko/Imagine Craft: Memento Ink (Toffee Crunch)
Twine
Acrylic Stamping Blocks
Banana Cream Cardstock (Journey Blooms)
Botanique Patterned Papers by Donna Salazar (G.C.D Studios)